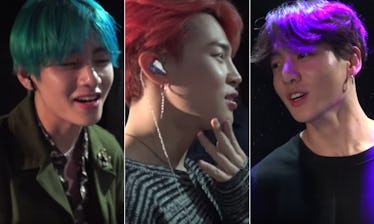 This Video Of BTS' V, Jimin, & Jungkook Singing "Scenery" Live Is Too Beautiful
What is better than listening to V sing his beloved solo song "Scenery?" This video of BTS' V, Jimin, and Jungkook singing "Scenery" live together, obviously. While there's no denying ARMYs worship the ground the song's creator walks on, it's hard to deny things aren't at least incrementally better when you get Jikook involved, right? (Back me up here Jimin and Jungkook-biased ARMYs.)
The boys are currently enjoying a restful break from touring while they rejuvenate themselves for future music to come. When the news of their official break was first announced on Aug. 11, ARMYs were overwhelmingly thrilled the boys were finally getting a much-deserved break. Still, it's hard not to preemptively miss the boys when you have two months of no in-the-moment BTS updates staring you in the face. Luckily, things like this kick-ass Bangtan Bomb (and surprise VLIVEs like the one Jimin did on Aug. 12) will keep them going.
On Monday, August 12, the video of the gang hanging around a keyboard popped up on BANGTANTV's YouTube channel. Within just a few hours, it gained over 1 million views, because that's how ARMYs roll. In it, one of BTS' producers begins to play the beginning notes to V's solo song "Scenery." However, Jungkook is the first to actually sing. V thoughtfully states, "You know me," before picking it up from there.
While V does go on to sing his song like a sweet baby angel, my favorite part is how Jungkook playfully sings along with him in an operatic voice. (Honestly, they sound kind of awesome together.)
Fans will also note how lovely it is to watch Jin quietly watch the maknae line shine.
Take a look:
Not for nothing, V broke major records when he first released this hit. According to HelloKpop, "Scenery" became the fastest song to surpass 100 million streams on SoundCloud. It was originally released on January 31, reportedly taking exactly 14 days and 7 hours to hit the milestone.
Another part of what makes the achievements of "Scenery" so impressive is that the song was 100% written and produced by V himself. It was also his first-ever self-composed song.
Beauty. Grace. Love. Passion.
Fortunately, these sweet little Bangtan Bombs are just one of the many ways you can get your BTS fix while they're on their aforementioned break. You can also keep tabs on VLIVE, Twitter, and Weverse, obviously.
In BTS' official announcement about their break, Big Hit wrote,
BTS will be going on an official and extended period of rest and relaxation ... This period of rest will be an opportunity for the members of BTS, who have relentless (sic) driven themselves toward their goal since their debut, to recharge and prepare to present themselves anew as musicians and creators. This will also provide them with a chance to enjoy the ordinary lives of young people in their 20s, albeit briefly. During this time, the members will rest and recharge in their own personal ways ... BTS will return refreshed and recharged to return all the love you have and continue to show them. Thank you.
BTS have concerts scheduled in October, and they have a comeback to prep for, so their break definitely won't be too, too long. For now, use this Bangtan Bomb to soothe any lingering frenetic energy while you patiently wait for the boys to return.
ARMYs are still out here, BTS. Obviously!