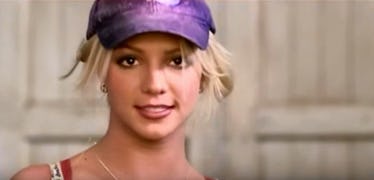 This Video Of Britney Spears' "Joy Of Pepsi" Super Bowl Commercial Will Hype You Up
YouTube
Think back to 2002, will you? Chicago won at the Oscars, frayed denim was everywhere, The Osbournes premiered, and Britney Spears was the biggest thing on the planet. Naturally, Pepsi took notice and decided to put the pop princess in their now-iconic Super Bowl ads. So, if you're looking to get pumped for this Sunday's big game, look no further than this video of Britney Spears' "Joy Of Pepsi" Super Bowl commercial.
You may recall Britney rocked the Super Bowl XXXV Halftime Show with the likes of Aerosmith, *NSYNC, Mary J. Blige, and Nelly in 2001, but that's not the only time she made headlines at America's buzziest sporting event. In a post-"Slave 4 U," pre-Federline moment, Britney took center stage in an epic commercial for one of the most recognized brands in the world. Rocking Pepsi coveralls and a cap to match, Brit Brit rips off the uniform to unveil the most early 2000s outfit ever — a bedazzled bustier paired with embellished, flared jeans and some sort of randomly-placed suspender situation. We all know Brit's the master of the quick change reveal, so of course she pulls it all off to perfection, seamlessly breaking out into a poppy jam that could easily be one of her chart-topping mega-hits. Also, Bob Dole is there.
Ah, takes us back. Of course, Britney's "Joy of Pepsi" jingle is full of the superstar's signature style, and we are totally guilty of taping it on our VCR and then listening to it on repeat all through the spring of '02.
Britney was also memorably in Pepsi's retro-tastic, decade-spanning "Now & Then" commercial, which premiered in 2001. Her "Joy of Pepsi" banger is arguably a bit more catchy for the early Millennial set, though.
She later teamed up with Beyonce and P!nk in 2004 for their Gladiators spot, which had the super group performing their version of "We Will Rock You" while hyping up an arena crowd in what appears to be a really fun night in Ancient Rome.
Britney is certainly not the first (or last) mega-celeb to make an appearance in a Pepsi Super Bowl ad. Cindy Crawford quenched America's supermodel thirst when she sipped on the soft drink for a 1992 commercial. 26 years later and we still can't forget it — Cindy will be recreating the iconic spot for the 2018 Super Bowl, this time with her son, Presley Gerber. The fresh take on the original commercial is called "This Is The Pepsi" and is part of the Pepsi Generation campaign. Crawford recently touched on the early '90s ad's impact, saying,
It was one of those moments in my career that when I walked down the street, people were like, 'Pepsi!' Or I'd be at a bar and people would send me over a Pepsi ... And it's funny because during Halloween a lot of women will dress up as me in that commercial. It's, like, an easy Halloween costume.
Nice. Next year's Halloween costume is totally settled. Thanks, Cindy!
In addition to Britney, musicians have a history of teaming up with Pepsi for their Super Bowl spectaculars. Bob Dylan and Will I Am sang "Forever Young" in a 2009 spot, this year's halftime performer Justin Timberlake was featured in a 2008 ad, and Ray Charles lent his voice to one for Diet Pepsi back in 1991.
The Super Bowl airs on NBC on Feb. 4, kicking off at 6:30 p.m. ET. While we're excited to watch the Patriots face off against the Eagles, the commercials are always a welcome break from the sports action. We probably won't be seeing Britney at this year's game unless she somehow fulfills our wishes and does a surprise duet with Justin (we can dream...), but the early 2000s live on in our nostalgic hearts. Now excuse us while we listen to the "Joy of Pepsi" for the fourth time today.