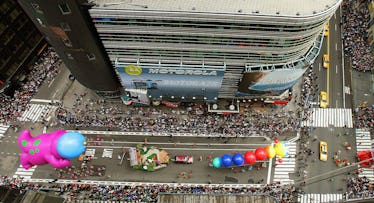 This Video Of Barney At The 1997 Thanksgiving Parade Has Resurfaced For A Hilarious Reason
Mario Tama/Getty Images News/Getty Images
On Thursday, Nov. 22, people all over the nation tuned into the legendary Macy's Thanksgiving Day Parade to enjoy hours of festive, larger-than-life fun. It's no secret that the parade is one of the most impressive and beloved Thanksgiving traditions in the United States, but there's bound to be a few mistakes made along the way. Well, to commemorate the special affair, this video of Barney at the 1997 Thanksgiving Day Parade is a hilarious walk down memory lane.
This year marked the 94th year of the Macy's Thanksgiving Day Parade, which started in 1924 right in New York City. Since the parade featured its first balloon animals in 1927, the annual Thanksgiving event has been known for the dozens of floats representing beloved characters from our favorite television shows. Well, as this year's Thanksgiving officially comes to a close, it looks like Twitter decided to reminisce on past parades by bringing back a hilarious video of a very popular purple dinosaur. In the video, a huge Barney float from the 1997 Macy's Thanksgiving Day Parade is being dragged across New York City when it suddenly blows up and crumbles to the ground during the parade, completely deflated. Even though this probably was a horrendous experience for audience attendees, it really is hilarious to look back at now.
Once footage of this #tbt surfaced, naturally Twitter had a few thoughts to share about the incident.
Even though 1997 might have been a rough year for Macy's Thanksgiving Day Parade, this year's was arguably the most impressive (and coldest) yet. Not only did it feature performances from the likes of John Legend, Kelly Clarkson, Rita Ora, Diana Ross, the Sesame Street Muppets, and more, but also more than two-dozen impressive floats made appearances. Personally, I was the most excited to see the huge Pikachu float marching across New York, but other familiar faces like Spongebob and Charlie Brown really hit me in my childhood feels.
Watching the Macy's Thanksgiving Day Parade in real life is sure to be an unbeatable experience, but this year's festivities might have been a bit difficult for New Yorkers. According to The New York Times, this year's parade was the coldest Thanksgiving parade in New York history since 1901. However, that wasn't the only part of the Thanksgiving parade that made history. During the parade, cast members from The Prom musical, which tells the story of a gay girl in rural Indiana who isn't allowed to take her girlfriend to the prom, performed a number from the new show. While the dancing and signing was already inspiring, there was one particular moment that left everyone cheering. At the end of their number, actresses Caitlin Kinnunen and Isabelle McCalla kissed in a truly climatic moment. According to USA Today, this could be the first lesbian kiss to be captured on the holiday's nationally televised event.
There might have been no exploding balloons during this year's parade, but it's safe to say the annual event was just as exciting without the drama. T-minus 364 days until Thanksgiving!