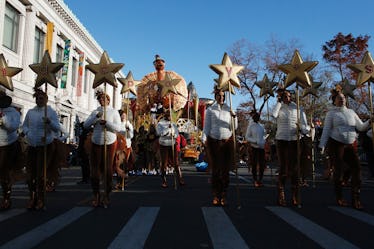 The Macy's Thanksgiving Day Parade Aired A Same-Sex Kiss & It's About Time
Kena Betancur/Getty Images News/Getty Images
One of the most beloved holiday traditions is the famous Macy's Thanksgiving Day Parade, where about 8,000 marchers, including high school bands from across the country and two-dozen floats, take to the streets of New York City. The parade is known for its massive balloons, celebrity appearances, and musical performances, but this year will likely go down in history thanks to the Macy's Thanksgiving Day Parade same-sex kiss that was featured live on NBC's broadcast. Yes, you read that correctly, because #loveislove!
The parade marked a huge milestone for LGBTQIA representation in America and on television during a performance of the new Broadway musical The Prom, which opened earlier this month. The Prom tells the story of a gay girl in rural Indiana who isn't allowed to take her girlfriend to — you guessed it — the prom. Naturally, a handful of famous actors from New York City learn of her plight, and travel to Indiana to lend their support to the young couple.
During the performance at today's parade, actresses Caitlin Kinnunen and Isabelle McCalla kissed in a climactic moment, which is thought to be the first lesbian kiss to be captured on the holiday's nationally televised event, reports by USA Today. Of course, this performance is just one of many that the parade showcased — hello, Diana Ross! — however, this stand-out moment is certainly taking center stage.
Today's parade is also significant because it's the coldest Macy's Thanksgiving Day Parade since 1901, per the New York Times. Thursday's forecast showed a high of 27 degrees and lows of 19 degrees, with winds blowing up to 25 mph and gusts up to 30 mph. While NYPD were on hand to lower the balloons should the winds become dangerous, the cold didn't stop thousands of New Yorkers and tourists from turning out to enjoy the show, which must go on!
Today's parade featured performances from Diana Ross, John Legend, Martina McBride and the Muppets from Sesame Street. Ross, 74, performed a song from her new Christmas album and was joined on her float by some of her family members, including daughter Tracee Ellis Ross, a star of ABC's Black-ish, and actor son Evan Ross. The parade also featured performances and appearances by Sugarland, Bare Naked Ladies, Pentatonix, Rita Ora, Anika Noni Rose, Kelly Clarkson, Ashley Tisdale, Kane Brown, Fifth Harmony, and my personal queen — Tina Fey.
While people all over the country enjoyed the parade via NBC's broadcast, social media naturally had a lot to say about that famous same-sex kiss. The Prom cast member Josh Lamon sent his own tweet about the broadcast, and then retweeted Entertainment Weekly's celebratory tweet about the kiss, commenting, "Thanks, @EW! #LoveIsLove."
While there's much to be thankful for on this holiday, we can certainly tip our hats to Macy's and NBC for including a moment that means to much to the LGBTQIA community and its supporters. Inclusion and visibility are so important, and although that smooch was one of many eye-catching moments, hopefully its significance won't be lost amidst the balloons, floats, and festivities. Happy Thanksgiving indeed!