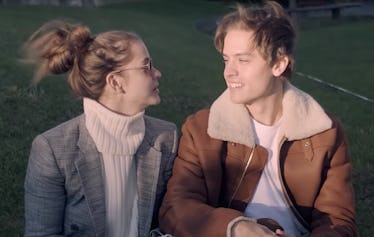 This Video Of Barbara Palvin & Dylan Sprouse On A Romantic Date Shows How In Love They Are
YouTube
Barbara Palvin and Dylan Sprouse are in looOOvvvEEEeeeee. The model, who recently made her Victoria's Secret Fashion Show debut, is the new star of a short Vogue video all about her day-off routine, and fans of the couple will be happy to hear that Sprouse makes an appearance in the video with her. And trust that the video of Babara Palvin and Dylan Sprouse going on a date is as heartwarming and cheesy as it sounds. But cheesy in a cute way.
The Vogue video follows Palvin on her day off. It starts out with her morning routine, which is to wake up around 7 a.m. (yes, even on her off days) and have a couple cups of coffee. Then she puts on some moisturizer and a tiny bit of makeup before heading to the gym. And this is the part I relate to the least: When she has a big gig coming up (like, eh hem, the Victoria's Secret Fashion Show), she goes to the gym around 10 times a week. She has a personal trainer she meets with for each gym visit, but like, that's more than I've been to the gym in the last month, so.
After the gym, it's time for a protein shake, and then lunch with her boyfriend. "That's what I do on my day off: I spend it with the people I love," she says in the video, "and I'm very much in love right now." The sweetest.
Palvin is coy in the video about who said boyfriend is (as if we didn't already know...), but then, Dylan Sprouse appears!
Will you just look at these two lovebirds?
Before meeting up with her former Disney-darling boyfriend, she tells the camera that she was single for six years before meeting Sprouse.
"It's not normal for me to have a boyfriend," Palvin says. "I was single for six years. It did pay off, I feel like I found the perfect guy. He's very kind and gentle."
At one point in the video, Palvin and Sprouse eat lunch in a park together and talk about their relationship a bit. "She doesn't like cuddling very much," Sprouse teased. "I try to give her hugs and she's like, 'Ugh.'"
Palvin chimes in, "I'm a strong, independent woman who wants to be free with you."
Sprouse snaps his fingers and says, "Who don't need no man!" Which is ironic, considering they're dating and everything.
Later in the video, the couple goes on a date to bar called Jack's where they play some pinball and goof around. The video closes out with Palvin and Sprouse heading back home for the night. Convinced these two are adorable yet?
If not, allow me to show you what Sprouse brought Palvin at the Victoria's Secret Fashion Show.
SHAKE SHACK. He literally brought her Shake Shack and walked with it down the red carpet. A dream if I ever did see one.
He also stood and placed his hand over his chest as he watched Palvin walk the Victoria's Secret Runway.
Yeah, these two are freaking cute.
We didn't need a Vogue video to prove that, but we'll take it!