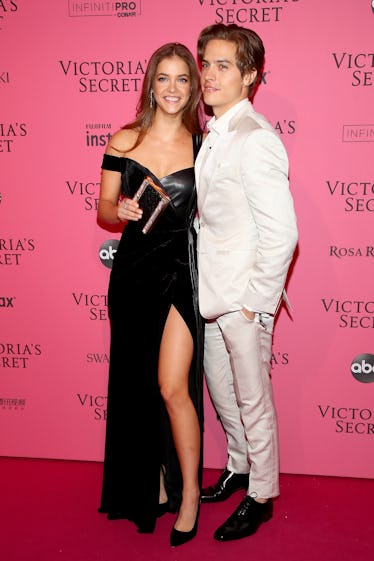 Dylan Sprouse Brought Barbara Palvin The Ultimate Gift After The VS Fashion Show
Astrid Stawiarz/Getty Images Entertainment/Getty Images
God bless a boyfriend who gives his lady what she really wants after a long day at work. (I'm talking about food, obvi.) Imagine you're a Victoria's Secret Angel, preparing for weeks before walking down the runway in front of a huge audience at the Victoria's Secret Fashion Show. Once the show is finally over, what's the first thing you would want? If you're model Barbara Palvin, it's definitely burgers, and, fortunately for her, she's got a pretty kickass boyfriend who helped her achieve that dream after VSFS filmed on Nov. 8 in New York City. Honestly, these photos of Dylan Sprouse bringing Barbara Palvin Shake Shack are making me connect with this couple on a spiritual level, and I am living for it.
In case you didn't know, model Barbara Palvin crushed the runway at the 2018 Victoria's Secret Fashion Show. But before the show began, she told People that her boyfriend, 26-year-old actor Dylan Sprouse, would be giving her more than just a hug after she was done with the show.
"He is bringing Shake Shack burgers for me," Palvin told People before the show began. She then recounted a story that makes me feel almost as if I am actually her.
Palvin explained to the publication that she's taken to watching cooking video clips leading up to VSFS. "We had a funny thing this morning because I was watching videos of food. That is what I do! I was like, 'Yeah, dip it! Cut it! Eat it!'"she said. "[Dylan] was like, 'Babe? Are you ok?' And I was like, 'Yeah, but it is just fried lasagna!'"
Ugh, I can just imagine that fried lasagna:
Fortunately for Palvin, Sprouse knew that after the show was over, she would want to eat delicious (read: unhealthy) food and not feel remotely worried about fitting into a bedazzled Victoria's Secret bra, so he arrived at the show with Shake Shack. What a man, what a man, what a mighty good man.
Sprouse took to his Instagram Story to show ~the goods~ and tagged his girlfriend, writing, "I'm coming @realbarbarapalvin":
Do you see that bag FILLED with burgers? It's almost like they are presents inside of a Christmas stocking, but somehow better (???).
Naturally, Palvin shared Sprouse's Instagram Story photo, and wrote, "OUHhh YEAH BABY," because she is me and I am her:
Sprouse was so proud of his efforts that he even walked the VSFS red carpet rocking the bag of Shake Shack as an accessory. And can you blame him? That bag of fast food makes him look 10 times sexier than he already did.
Sprouse also posted some clips from the Victoria's Secret Fashion Show, which looked dope AF:
And lastly, he shared a glorious close-up video of Palvin, sticking her middle finger up to her boyfriend, because THIS IS THE EXACT REACTION EVERYONE HAS TO SOMEONE VIDEOTAPING JUST THEM CLOSEUP:
I honestly feel connected to Barbara Palvin on way too many levels.
Sprouse was also spotted holding his hand to his chest and standing up as Palvin walked the runway, which makes me want to cry and smile at the same time:
Dylan Sprouse and Barbara Palvin are a relatively new couple, but it's pretty evident that they're very into each other. The pair was spotted attending the World Cup together and then flying back to New York together back in July, initially sparking rumors that they were dating — though neither party confirmed their status. Of course, that was until they made an appearance at the Harper's Bazaar ICONS party in September, where they looked all sorts of sultry:
::heavy breathing::
::continued heavy breathing::
OK, OK, I think that's enough for today.
The moral of the story is that Dylan Sprouse is a national treasure, and Barbara Palvin gets to reap the rewards because she, too, is a national treasure. Bless 'em both.