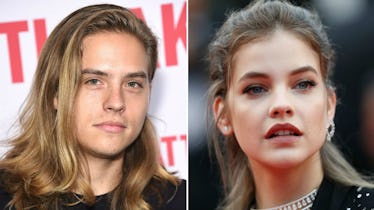 Dylan Sprouse May Be Dating This Supermodel & Their Photos Together Are So Cute
Jamie McCarthy/Getty Images Entertainment/Getty Images | John Phillips/Getty Images Entertainment/Getty Images
It looks like Dylan Sprouse might have a new girlfriend. And her name is Barbara Palvin. Sprouse and Palvin have been sparking dating rumors with their social media antics, which are, according to E! News, rather flirty in nature. More than that, though, Sprouse and Palvin's latest Instagram photo is causing even more of a stir. So, who is Barbara Palvin? Well, she's a supermodel from Hungary who's apparently caught Sprouse's eye!
Elite Daily has reached out to Sprouse's team for comment on the dating rumors, but has not heard back at the time of publication.
In any case, Sprouse and Palvin have been spotted out and about quite a bit lately. The 25-year-old actor and the 24-year-old model were seen together on Tuesday, July 24, attending a screening for the movie Puzzle at the Roxy Cinema in New York City.
To top it all off, Palvin posted a sweet photo of the two of them together on her Instagram Story. In the photo, Palvin and Sprouse are looking as cozy as ever after a night at the movies.
So, what's the deal here? Are they dating or aren't they? The jury's still out on that, but here's a look at the cute photo Palvin shared on her Instagram:
Additionally, Palvin shared a few snaps from the night in a slideshow on Instagram, including one of herself and Sprouse. She and Sprouse look pretty comfortable together, to be honest! Sprouse is smiling and Palvin is definitely cozying up to him. Wouldn't surprise me at all if they actually were a couple!
Sprouse also shared a glimpse into the rumored couple's night out on his Instagram Story. In the photo, both Sprouse and Palvin appear to be messing around with their respective manes and laughing.
"Having a hair competition," Sprouse captioned the Instagram Story. "Who won?"
This is the photo Sprouse shared:
Sprouse and Palvin have been the subject of dating rumors for a little while now. On July 20, Cosmopolitan reported that the two were in Russia together for the World Cup. Sprouse and Palvin also flew back to New York together.
So, these two are definitely spending lots and lots of time together. And that can mean only two things: either they're dating or they're just... good friends. Whatever the situation is, they're certainly keeping the fans guessing!
Sprouse was previously involved with Dayna Frazier. He and Frazier dated for nearly three years before calling it quits in August 2017. At the time, Frazier seemed to accuse Sprouse of cheating on her, which Sprouse addressed with the following statement:
I will say this and only this: by adhering to an assumption based on limited information, you neglect the complicated nature of this issue. The truth always has two sides, and those sides have motivations, and those motivations, despite how cloudy they currently seem, are private. This is complicated and it will remain complicated, but those who know me and who have known me, know well enough what kind of person I am. And that is all.
Palvin, on the other hand, has previously been linked to famous names like Justin Bieber and Niall Horan.