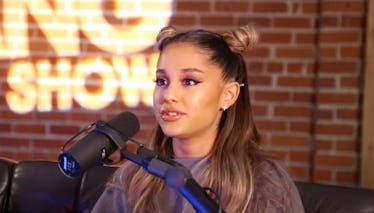 Ariana Grande Cried While Explaining Why "Thank U, Next" Means So Much To Her
YouTube
Wow, wow, wow. How is everyone coping since Ariana Grande dropped her Thank U, Next album? The masterpiece was unleashed on the world on Friday, Feb. 8, but Arianators were blessed with a few singles prior to its release. Of course, one of the major tracks I'm talking about is the song by the same name, "Thank U, Next." Fans know it was an emotional track for Grande to write considering it directly references and was inspired by her previous relationships. However, the video of Ariana Grande crying over "Thank U, Next"'s significance has her followers shook. It's easy to forget that underneath that fierce ponytail is a living, breathing 25-year-old girl trying to navigate life and love, just like the rest of us.
Ariana Grande and members of her team stopped by the Zach Sang Show where she got real (like, really, really real) about what it was like creating this album. While she strategically dodged some questions from host Sang, she did open up about the men she mentions in "Thank U, Next"'s lyrics and some of their reactions to the song. While most of us listen to the track as a pick-me-up, Grande reminded people that for her, the song is about her real life.
You guys know in the song's opening lyrics, Grande references four of her past high-profile boyfriends. She sings,
Thought I'd end up with Sean / But he wasn't a match / Wrote some songs about Ricky / Now I listen and laugh / Even almost got married / And for Pete, I'm so thankful / Wish I could say 'thank you' to Malcolm / 'Cause he was an angel.
Without explicitly mentioning her ex-fiancé Pete Davidson's name in the interview, Grande explained her relationship status at the time of writing "Thank U, Next" was up in the air, which made it tricky. She also said she wrote multiple versions of the song, some including her ex-boyfriend's names and some not, as a means to protect herself and them. Ultimately, she and her team knew the best thing to do was namedrop, but she was aware it was going to come with a lot of drama and feedback from the press and her followers.
She explained, "In my relationship [with Pete] at the time, things were like up and down and on and off, and so I didn't know what was going to happen and then we got back together, so I had to make a different version of it, and then we broke up again, so we ended up going with that verse."
While some people might think the decision to name her past boyfriends was a flippant PR move on Grande's part, she insists it was an extremely challenging and personal decision. In fact, she even got emotional while she talked about it.
"It was a big risk and a very scary thing to do, because it is my life. I understand that to a lot of people, I'm not a real person, or it's easy to just kind of like see me as like, a song or a picture or like a thing that kind of exists in their head and they know what they know and that's it," she said, tearing up. "But at the end of the day, these are people and relationships. It's real sh*t to me. It is real life and I spent a lot of time with each of those people, like learning and sh*t. So, it was like scary to put in a song."
While Grande says it wasn't hard to listen to "Thank U, Next" for the first time personally, it was hard to play it for people. Grande said she "knew as soon as people heard the names, they were going to be like 'Run that back one more time. Like, what the f*ck is she doing?'"
Clearly, Grande's vulnerability paid off. "Thank U, Next" (both the song and the album) have soared to the top of the Billboard charts.
To catch her entire interview on Sweetener, Thank U, Next, her past relationships, and what's to come, click the video link below. Scroll to the 12:00 timestamp to hear more about "Thank U, Next."