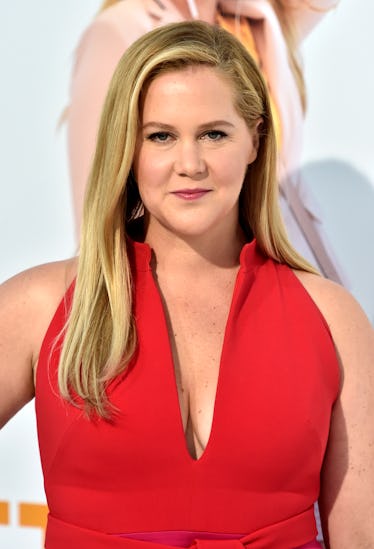 Amy Schumer Just Shared An Emotional Video Of Her Ultrasound To Encourage Fans To Vote
Frazer Harrison/Getty Images Entertainment/Getty Images
Amy Schumer and her husband, Chris Fischer, are expecting their first child together! The actress/comedian snuck her pregnancy announcement into an Instagram post on Oct. 22 that was encouraging people to vote, and now she's done something similar with a new video on her Instagram. The video of Amy Schumer getting an ultrasound is so heartwarming and sweet, but she also made it all about voting on Nov. 6 because, yeah, everyone needs to freaking vote on Nov. 6.
In the video posted on Monday, Nov. 5, you see Schumer looking in awe at the screen as her little one moves around during the ultrasound.
"Oh my god, it's moving all around!" she says. "Oh my god. Oh my god. See? It has so much energy. That's why I'm puking every day." Classic Amy Schumer. It's not clear if Chris Fischer is the one taking the video or if he's in the room, given that the camera only shows Schumer and the ultrasound screen.
Schumer's caption for the sweet video was all about voting in the midterm elections on Nov. 6. She said,
Happy Election Eve! You can look up your polling place + hours by texting LOCATION to 21333. And you can look up a sample ballot to be prepared at vote411.org/ballot. Make a plan to #vote and let's make history tomorrow! ♥️🗳 (Feel free to copy this + send it to everyone.) thanks @piperperabo
Schumer clearly has a lot of joy in that video, but she recently revealed her pregnancy has been pretty tough for her so far. Currently in her second trimester, Schumer joked during her comedy set in Vegas on Friday, Nov. 2, "I don't like it... I've had a really tough pregnancy so far." That tracks, seeing as she says she's been vomiting nonstop in the video of her ultrasound.
As for the sex of the baby, she said in her set on Nov. 2, "It's a 50/50 shot. It's better odds than in Vegas. I don't know what it's going to be. I think it's going to be a baby." I mean, fair.
Schumer posted a photo of her showing off her baby bump to her Instagram on Nov. 2.
Her pregnancy announcement on Oct. 22 was less about her announcement and more about voting, because, again, everyone needs to freaking vote!!
The photo was a list of candidates on the ballot in the election on Nov. 6 whom Schumer supports. The last thing on the list says, "I'm pregnant - Amy Schumer."
Schumer's sister, Kim Caramele, also posted a photo of her sister and brother-in-law joking about them becoming parents.
The photo is of Schumer and Fischer, in very Kris Jenner "you're doing amazing, sweetie" fashion, taking pictures of their dog wearing a sheep costume for Halloween. Caramele captioned the post, "They are going to be UNBEARABLE parents."
Speaking of Halloween, Schumer and Fischer have got the couples Halloween costume thing down.
They dressed as Siegfried and Roy, and then Schumer and Caramele dressed as Amanda Seyfried and Rachel Roy.
Now do as Amy says, and vote!!