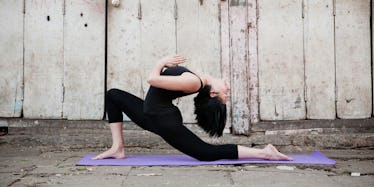 This Valentine's Day Yoga Sequence Is The Perfect Way To Open Your Heart Up To Love
Valentine's Day is the perfect opportunity to focus on practicing self-love and spreading those good vibes to everyone you know. Rolling out your mat on V-Day and including some rejuvenating, heart-opening asanas into your yoga flow is an amazing way to nurture your body and mind in the most adoring and gently expansive way possible. With Feb. 14 quickly creeping up on us, having a Valentine's Day yoga sequence handy to take advantage of all of the loving energy in the air will open up your heart chakra and allow you to shower yourself with compassion from head to toe.
The heart chakra (or the anahata chakra) lies in the center of your chest and is partially responsible for cultivating deeply loving emotions toward yourself and others. However, it often becomes blocked when you're faced with heartbreak and other difficult situations that life inevitably presents you with.
A fluid, powerful, relaxing, nourishing yoga practice focused on the anahata chakra is an amazing way to emotionally open yourself up so you can show unconditional love and affection toward your incredible body and mind this Valentine's Day. Try flowing through this sweetly smooth yoga sequence to open your heart up to love — whether it be for yourself or for someone else — come Feb. 14.