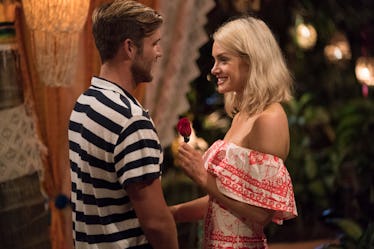 This Update About Jenna & Jordan's Post-'Paradise' Relationship Is So Intense
ABC
Bachelor in Paradise drama has gotten even more "coconuts." Bachelor Nation is still reeling from watching Bachelorette favorite Jordan Kimball lovingly propose to Jenna Cooper in the Paradise finale, and then almost immediately learning about texts reportedly belonging to Jenna and documenting her reported cheating on Jordan. Jordan ended their engagement as a result of this upsetting news, but this update about Jenna and Jordan's post-Paradise relationship is even more bizarre and intriguing. As Chris Harrison would say, this is definitely one of the most dramatic breakups in Bachelor history.
Soon before the second part of the Paradise finale aired earlier this month, Bachelor spoiler king Reality Steve published screenshots of texts reportedly between Jenna and a man to whom she was romantically linked. The messages, which the man reportedly provided Steve with, suggested that Jenna was cheating on Jordan and fabricating their relationship with the goal of splitting up and framing Jordan as the one to blame in the breakup. Believing that the texts were real, Jordan broke up with Jenna after the story broke, while Jenna released a statement to People saying:
I am aware of the allegations being made against me and they are simply untrue. I am choosing to focus on my relationship right now. Thank you for respecting my privacy at this time.
Elite Daily reached out to Jenna's team for additional comment, but did not hear back by the time of publication.
After about a week of radio silence from both Jenna and Jordan, Jenna has now clapped back again, calling out Reality Steve aka Stephen Carbone on Sept. 22 for his role in the story. She released a statement on Instagram explaining the legal procedures she has initiated to prove that the texts are false. In part of her statement, Jenna wrote:
My attorneys have begun an investigation which included requesting that Stephen Carbone [Reality Steve] give the actual files of the fake texts to us so that the files may be forensically examined. My attorneys also requested that Stephen Carbone identify whoever provided the fake texts and tell us how he claims to have "vetted" the texts that I know I didn't send... Stephen Carbone had his lawyer respond by denying the requests.
Jenna also said in her statement that through his lawyer, Carbone claimed that whether the texts were true "is not the relevant inquiry." At the end of her statement, Jenna called for Carbone to provide her legal team with the texts, but wrote that he would not because "it would kill his story." Elite Daily reached out to Reality Steve for additional comment, and was directed to the following tweet.
The Bachelor alums who pick virtual fights with Reality Steve never get off easily, and Jenna is no exception. Steve responded to her statement with his own on Twitter, writing in part:
As you know, the producers of The Bachelor pretty routinely threaten me about the spoilers I write, so I know a fair amount about what the law allows me to print. I stand behind what I printed...but also because Jenna's lawyers provided no actual evidence at all to suggest that the texts came from anyone other than Jenna.
In his dissection of Jenna's message, Steve pointed out that her statement never denied her cheating on Jordan and that her use of the phrase "text files" doesn't exactly make sense. Can you forensically examine text screenshots?
Clearly, Steve isn't too worried about Jenna taking legal action against him. At the end of his post, he said:
If I were Jenna, I'd tread very carefully going forward because she would be opening herself up to a lot of her personal life being made public, and that's probably not something she wants getting out there. I know if I were her, I wouldn't.
Ouch. Jenna has yet to publicly respond to Reality Steve's latest message. Elite Daily also reached out to Jenna's team for a response to his statement, but did not hear back by the time of publication.
It doesn't look like this issue is rectifying itself anytime soon, but while Jenna is aiming to prove Steve wrong, Jordan has kept busy with work and his friendships with his fellow Bachelorette men. Seeing how excited he was about their Paradise wedding next year, Jordan must be struggling, but it's good to see that he isn't letting this defeat him.