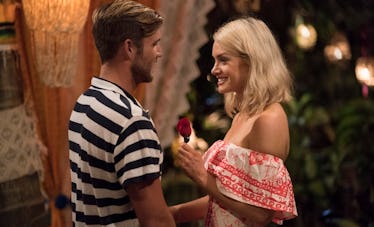 Jenna From 'Bachelor In Paradise' Reportedly Had An Affair Behind Jordan's Back
ABC
When Bachelor Nation saw Jenna and Jordon on Tuesday, Sept 11's Bachelor in Paradise season finale he was down on one knee and she was accepting his romantic proposal. On the reunion special to follow the cute couple talked wedding dates, starting a family, and making a life together. Now new allegations are coming to light about their relationship and Jenna's intentions. Did Jenna cheat on Jordan? According to a recent report, there's trouble in Paradise for this seemingly successful BIP love match.
Elite Daily reached out to Jenna's team for additional comment, but has not heard back by the time of publication.
Bachelor spoiler king Reality Steve took to his blog on Tuesday to unveil a string of text messages allegedly from Jenna and an unknown man she had been seeing. His story claims her relationship with Jordan was for show and that she didn't really have feelings for him. Now Jenna is speaking out about the allegations. In a statement to People, the reality star said:
I am aware of the allegations being made against me and they are simply untrue. I am choosing to focus on my relationship right now. Thank you for respecting my privacy at this time.
Jordan additionally responded to the allegations:
On Monday, I saw something someone posted on Twitter — that somebody was going to be roasted the next night," he told the magazine. "Jenna called me and said she was very anxious about this Twitter post. I talked to her in the middle of the night last night. I said, 'Don't hype yourself up, don't worry, you have nothing to worry about.' I tried to calm her. I went back to bed for a few hours, woke up, had my coffee and she called me again and said she was anxious and felt sick to her stomach.
"I know my Jenna, and I read those texts and in my heart, I know it's her," he added. "She was saying she didn't do it, but hinting towards the fact that there's a possibility that it happened. In all reality, I don't expect her to own it."
Jordan and Jenna appeared to be one of the most solid couples to emerge out of Bachelor in Paradise's fifth season. The quirky pair hit it off immediately after going on a date that left them both smitten. Despite some hurdles along the way (Jordan got in an argument with David, Benoit came between them at one point) the couple made it to the very end of the season.
"I owe it to the franchise," Jordan told ET at Aug. 28's taping of the reunion show. "They brought us together, and to have them witness this... I just started this journey six months ago and now I'm standing here with you. It just blows my mind that we went on a TV show and we found each other, for real. It blows my mind."
Jordan and Jenna even revealed their wedding date during Tuesday night's airing of the reunion. The fiances asked Chris Harrison to officiate and hope to tie the knot on June 9, 2019.
Will they make it down the aisle? Only time will tell.