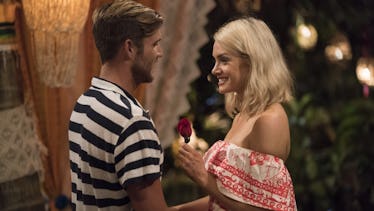 Jenna & Jordan Just Announced Their Wedding Date, So They're The Real Deal
ABC
Jordan and Jenna have been one of the strongest couples on this season of Bachelor in Paradise. Not only did they get engaged in the season finale of the show, but they also revealed their intended wedding date during the Bachelor in Paradise reunion show. So, when are Jordan and Jenna getting married? Well, if all goes well and they stick together, they'll be walking down the aisle on June 9, 2019.
While appearing on the reunion show, Jordan took a risk and asked host Chris Harrison if he'd officiate the wedding. Of course, he said yes! So, Jenna and Jordan have an engagement ring, a wedding date, and an officiator. So, as far as the reunion show goes, things seemed to have been looking up for the couple.
And that didn't come as a surprise given that the couple was absolutely smitten with one another while appearing on the show.
Unfortunately for them, though, news broke on Tuesday, Sept. 11 that Jenna had allegedly cheated on Jordan. According to Entertainment Tonight, a series of texts between Jenna and another man surfaced on Reality Steve that suggest Jenna wasn't being entirely truthful with Jordan for the duration of their stay in paradise.
A source close to the situation on Bachelor in Paradise told ET that "the cast is completely shocked by this."
They also revealed that wasn't particular close to the cast.
"Jenna wasn't close to many of the cast members and nobody saw this coming," the source said. "We hadn't heard anything like this."
While neither Jenna and Jordan have made official statements, sources close to them have said they are both dealing with the situation in their own way.
Jenna has apparently been "fielding phone calls all day" is totally confused about her next moved.
"She's just feeling very confused on what to do from here," the source said.
As for Jordan, he's not handling it well according to people in his circle. According to one of ET's sources, he reportedly "feels like he doesn't even know the real Jenna ... She's not making things any better; she isn't denying anything to him, and also isn't saying she's sorry for anything."
"Jordan is shocked by the report," the source added. "Frankly, he's disgusted."
Yikes! If all of this is true, then it seems that Bachelor in Paradise didn't produce as many happy couples as initially thought. I'm sure Bachelor Nation is reeling from this news, especially given how enthusiastic Jenna and Jordan were about their future together. Here's how they're reacting so far:
If there's any future at all for this couple, I hope they both come back to each other with some openness and honesty about where they are emotionally. It's terrible to think that Jenna might not have been transparent in her intentions toward Jordan.
In any case, I suppose Bachelor Nation should tentatively pencil in June 9, 2019 as a potential wedding date ...if they manage to get that far.
With any luck, they'll work this unfortunate situation out and figure out what's best for them.