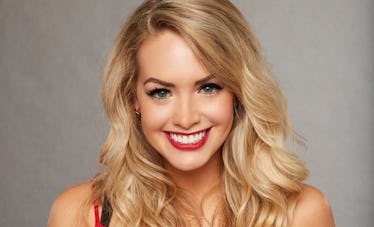 Jenna's Engagement Ring From 'Bachelor In Paradise' Will Legit Blind You
ABC/CRAIG SJODIN
There's no question that Jenna and Jordan are one of the strongest couples on Bachelor in Paradise this season. So, it should come as absolutely no surprise that they went ahead and got engaged! And Jenna's engagement ring will literally knock your socks off. Yep, it's so big and blingy that it suits her and Jordan's over the top personalities just fine.
Jenna and Jordan have enjoyed a relatively long and intense relationship as far as Bachelor in Paradise goes. The two lovebirds have essentially been inseparable since they first met. And in Jordan's case, it was love at first sight.
Although Jenna strayed a bit when Benoit briefly entered the picture, her heart has totally been with Jordan this whole time. And his has apparently been with hers as well because he popped the question on the Sept. 11 episode of Bachelor in Paradise.
Jenna said yes, of course, and she was deliriously happy about entering this new chapter of her life. Jordan was clearly ecstatic, too. But that's no surprise since he's been saying he'd propose to her for weeks now.
In any case, the two are newly engaged and they're on their way to being happily married. And Bachelor Nation has a whole lot to say about that. Here's what's going down on Twitter right now:
Fans of the show are clearly enamored with Jenna's ring and rightfully so. Here's what it looks like:
They're also really rooting for Jenna and Jordan to have a long and happy future together.
On the previous episode, Jenna and Jordan made fans' hearts explode with an incredible engagement photo shoot. During the the shoot, Jenna was giggly and nervous about the possibility of an engagement. But she changed her mind rather quickly, didn't she?
In any case, Jenna and Jordan had great chemistry during the photo shoot and Jordan was definitely feeling confident about the relationship. At one point during the photo shoot, Jenna and Jordan were asked to dress in wedding attire. So, the photographer had Jenna in a wedding dress and Jordan in a tux. Clearly, he was predicting what the outcome of this relationship would be.
As odd as that all is, the wedding-themed photo shoot helped Jordan and Jenna move along just as well. For Jordan, it only confirmed his increasing desire to marry Jenna. Jenna, on the other hand, was scared of giving her whole heart to Jordan in marriage. But they had a wonderful heart to heart (while still dressed in their wedding garb) and they both walked away feeling more excited about the relationship than ever before.
"I can actually picture a healthy and fun relationship with him in the future," Jenna said in an on-camera interview. And now they're engaged, so she clearly knew something was going right this whole time, no matter how nervous she may have been.
Here's hoping Jenna and Jordan enjoy a long-lasting companionship that's full of love, joy, and happiness! Congrats to you both!