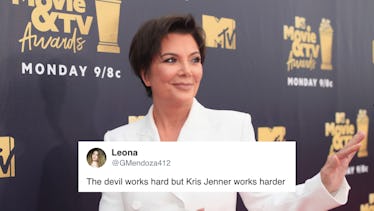 Twitter Is Trolling Kris Jenner For Supposedly Orchestrating The Kardashian Sister Fight
Christopher Polk/Getty Images Entertainment/Getty Images
Ooo, boy. It is a very exciting Monday morning, y'all. On Sunday, August 5, the world watched in wonder as Season 15 of Keeping Up With The Kardashians premiered with one of the most explosive family fights yet. Sisters Kim and Kourtney Kardashian went head-to-head over scheduling drama about the family Christmas card and it got nasty. According to their Twitter feud during the premiere, the tension is alive and well. However, like all things Kardashian, some people think Kris Jenner might actually be driving the drama-ship. This Twitter theory about Kris Jenner orchestrating the heated exchange between her daughters to help boost ratings for their show is so wild, it might just be true.
During the show, Kim and Kourtney got into it over the famous family Christmas card you all might remember obsessing over this past holiday season. Kim wanted her sister to be more flexible with her scheduling as she planned the shoot, sighting Kourt's lack of "jobs" as a reason for her to bend. Kourtney remained firm, claiming her priorities are just different than her sisters. Through a series of events and shouting, Kim called Kourtney "the least exciting to look at" in their family and it all went downhill from there. While fans know the fight happened nearly a year ago, Kourtney and Kim seemed to pick up right where it left off on their social media accounts when the argument aired.
Kim jumped on Twitter first to double-down on her reasons for freaking out at Kourtney, prompting Kourt to respond with, "We all have our own priorities. Mine is being a mother. #KUWTK." It obviously snowballed from there. Eventually, Khloé chimed in saying, "I just wanted peace." Eventually, the sisters agreed it was "good to learn these boundaries" and that they're "ride or die," but damn it was entertaining to watch for a second.
ANYWAY, like with all things Kardashian, fans assume momager and PR-mastermind Kris Jenner has actually been the mastermind behind the fight from the start. Many fans joked Kim and Kourtney were probably sitting next to each other in their mom's living room while the Twitter fight raged on. Others joked Kris Jenner was actually flopping back and forth between her daughter's accounts and writing the whole exchange herself. Sure, we all agree that seems just a little too out there to actually be true, but then again... does it?
Whether you love-to-hate or hate-to-love her, you've got to admit it: Kris Jenner is a resilient woman. Despite the never-ending onslaught of drama surrounding her family, she keeps it moving and does it all in very, very expensive clothing.
In the end, fans recall the family Christmas card did happen with one clearly photoshopped-in Kendall Jenner and minus one very pregnant Kylie Jenner. Kourt was there though, just sayin'.
Check out the entire Gen Why series and other videos on Facebook and the Bustle app across Apple TV, Roku, and Amazon Fire TV.