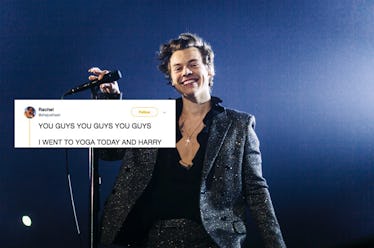 This Girl Ran Into Harry Styles At Her Yoga Class & Freaked Out Just As Much As You Would
Picture this: You're in your favorite yoga class, about to mindfully move your body and blissfully tune into your breath — when you suddenly spot none other than Harry Styles, chilling on a mat across the studio. TBH, I don't think there's any humanly possible way to channel any sort of zen energy with the dreamiest British singer-songwriter breathing the same air as you. And if you're thinking this is some bizarre scenario that would never happen to you, you should probably take a look at one Twitter user's tweet about Harry Styles at her yoga class, and marvel at the fact that she didn't pass out on the spot.
On Oct. 13, a Twitter user named Rachel (aka @shejusthasit), who's apparently a huge Harry Styles fan (I mean, aren't we all?) shared what has to be the most blessed experience to ever happen in the history of yoga. OK, fine, that's definitely an exaggeration, but come on, how would you feel if you were just doing your thing, going to your weekly yoga class, and you suddenly stumbled upon Harry freaking Styles?
In her tweet, Rachel wrote,
YOU GUYS YOU GUYS YOU GUYS
I WENT TO YOGA TODAY AND HARRY F*CKING STYLES WAS THERE IN THE SAME CLASS AND AFTER HE SAID EXCUSE ME TO ME AND WAS RIGHT NEXT TO ME BY THE MAT CLEANING STATION AND YES HE CLEANED HIS OWN MAT GOD BLESS GOD BLESS HE HAD A BANDANA IN HIS HAIR
I don't know about you, but if Harry Styles casually brushed past me at the mat cleaning station in yoga class, I would shed tears of both joy and disbelief. Or maybe I'd pass out. I really can't say, guys. Either way, judging by the responses to Rachel's tweet, I'm certainly not alone.
Twitter user @dailyvlogs1x asked what has to be one of the most important questions here: Is Harry as beautiful in person as he is in photos on the internet? To which Rachel replied, "He looks straight outta a movie. As beautiful as ever." Ugh, I'm weak.
As if Harry Styles doesn't bless us enough on the reg with his incredible vocals, it seems like he's also now inspiring more people to get involved in yoga. HARRY, YOU ARE AN ANGEL.
The only downside to this story is that it looks like Rachel didn't get a chance to snap a photo with Harry. But, as one Twitter user pointed out, this still has to be one of the most beautiful, pure things you'll ever read on the internet. In the wise words of user @FLORALSKYMGC, "what a blessing."
Honestly, though, aside from the obvious shock and amazement of Harry Styles making a casual appearance in some random person's yoga class, I think my favorite part of this whole story is that the 24-year-old performer is a completely normal human being, who takes the time to clean his yoga mat once he's done with his workout, just like you and me.
Well, hopefully just like you and me, because if you're admittedly pretty lazy about cleaning your yoga mat post-flow, you should probably take a pointer or two from your favorite British celeb and clean that ish ASAP. A dirty yoga mat can be a nasty breeding ground for germs and bacteria, so the next time you're tempted to dash out the door after savasana, remember, Harry's watching.