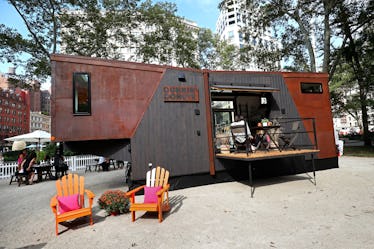 You Can Visit A Tiny Home That Runs On Dunkin' Coffee For The Ultimate Pick-Me-Up
Dunkin' Donuts
Like so many "typical millennials," I try my best to live an eco-friendly lifestyle. I recycle as often as I can, I own (and constantly carry around) a reusable straw, and if I ever end up buying a car of my own, you'd better believe it'll be a freakin' hybrid. I'm just trying to save the earth one step at a time, what can I say? Anyway, I was recently lucky enough to visit a highly sustainable tiny home in Madison Square Park, and it's totally powered by Dunkin' coffee grounds. Yes, you heard that correctly — this tiny Home That Runs on Dunkin' exists, and you can visit it for yourself.
With the importance of moving away from fossil fuels, the fate of planet earth seems to lie in turning towards alternative fuel sources. So, having a home run successfully run on used coffee grounds is a pretty solid start, don't you think? Anyway, according to a press release, the Home That Runs on Dunkin' is totally powered by a special biofuel, which was developed by Blue Marble Biomaterials. It combines 80 percent coffee oil from spent Dunkin' coffee grounds, with 20 percent alcohol, allowing for the fuel to burn more quickly and sustainably. It truly is an eco-friendly dream, if you think about it.
During my visit to the Home That Runs on Dunkin' on Wednesday, Oct. 3, I was able to speak with Jason Walters, the Senior Brand Manager at The J.M. Smucker Company, who says the tiny home and its alternative fuel source is extremely important and highly relevant to consumers, seeing as many people nowadays seem to value more eco-friendly lifestyles.
"We know that tiny homes are a trend, and folks are becoming more and more conscious of new ways to use things... like spent coffee grounds, for example," he tells Elite Daily. "So, it really is a great new thing for us."
The tiny home itself is super modern, complete with a lofted bed, giant windows, a full kitchen, and a porch that pulls out, if you decide you want to sit outside. There's even a full jacuzzi bathtub in the bathroom. It all seems kind of small at first, but let me tell you, it's extremely space-efficient, and — in my opinion — totally livable.
Walters continued to explain that The Home That Runs On Dunkin' completely embodies the brand, through its ever-popular slogan.
"You just think how 'America runs on Dunkin'' appeals so highly to consumers," Walters said. "We got the inspiration for the tiny home from hearing, talking, and living through that slogan. It just made perfect sense to us."
While the Home That Runs on Dunkin' is staying in The Big Apple for the weekend, Walters says they're working towards having it debut in other cities nationwide. He also hinted at there being some possible hospitality opportunities, and if you ask me, that sounds utterly fantastic.
"We're currently looking at allowing consumers to actually stay in the home," he said. "So, more to come on that soon."
As you can see in the photo above, I was clearly elated to be visiting the Home That Runs on Dunkin' for a mere few minutes. So, I'm sure staying there would highly appeal to a wide range of consumers.
If you think you might be interested in visiting the Home That Runs on Dunkin', it'll be open to the public between Thursday, Oct. 4 and Saturday, Oct. 6, between 8 a.m. and 6 p.m. in Madison Square Park, according to the press release. You'll be able to get in on free take-home coffee, games, as well as prize giveaways. It's definitely worth visiting, if you have some free time in Manhattan's Flat Iron District.
If you have to miss out on the Home That Runs on Dunkin' installation, my fingers are crossed that it'll venture to a city near you. But, in the meantime, the New England-based coffee chain is selling $2 any sized DD Iced Coffees between 2 p.m. and 6 p.m. every day until Saturday, Nov. 18. If you're feeling a little festive, the deal also happens to include seasonal offerings, like the Pumpkin and Maple flavors. So, make sure you get on that ASAP.
If you thought you ran on Dunkin', this tiny home literally is powered by Dunkin' coffee grounds. It's the sustainable house of my dreams, and TBH, it might be my future home.