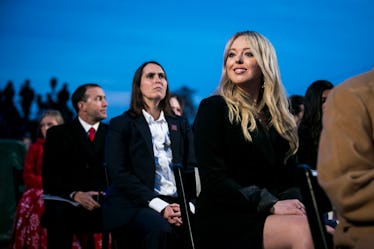 This #TBT Instagram Of Tiffany Trump Is An Adorable Peek Into Trump Family Time
Pool/Getty Images News/Getty Images
Tiffany Trump may have been called the "forgotten" daughter of Donald Trump for most of her childhood, but never let it be said that it wasn't a totally adorable childhood. The youngest Trump daughter was a super cute kid, and this TBT Instagram of Tiffany Trump proves it. Nothing like a family photo op!
Trump's mother, Marla Maples, is pretty active on social media, and it's to our benefit. On Jan. 11, she posted a super cute photo of her little girl — from way back in the 90s. The photo shows mom and daughter posing together in a kitchen, apparently having just finished making cookies. Little Tiff, who looks about four or five, sits at the table with a sheet of plastic and cookie cutters in front of her, while mom Maples leans over her little girl. Both mom and daughter wear matching teal turtlenecks, Maples' decorated with a snowflake pattern in darker blue. Finishing off the cute arrangement? Maples has a dollop of cookie dough on her nose. Mother-daughter bonding experiences are the best, you guys.
Maples definitely thinks so. She captioned the photo,
#tbt To a New Years Trip years ago with Tiffany. Fun adventure in baking but why am I always the one with flour on my nose Hope you are all off to a great start in this New Year of New Life of 2018
There's something just so inherently sweet about seeing a photo of Trump and her mom making cookies together when she was little. Baking cookies with your mom has an aura of comfort and coziness. It's just so normal. How can anything in the world be going wrong when you've got cookies on their way?
But it's also extra sweet because based on how old little Tiff seems to be in this photo, her family was probably undergoing some major upheaval at the time.
Tiffany Trump's parents separated in 1997, when their daughter was four years old, and made the divorce official two years later in 1999. After the split, Trump moved with her mother to California, where Maples essentially raised her daughter as a single parent.
A New York Times profile of Tiffany Trump in 2016 pointed out that the youngest Trump daughter didn't have as much contact with her father growing up as her older siblings did. "She'd like to get to know her father better and spend time with him like his other children did: by going to his office and watching him work," Maples told the newspaper at the time.
But now that her dad is in D.C., she probably sees a lot more of him. Trump is currently studying law at Georgetown University in Washington D.C., not far from where her father President Trump sits in the Oval Office. Big sister Ivanka Trump lives in D.C. as well as she acts as special adviser to her father.
These days Trump usually makes an appearance at big White House events with her family and siblings, occasionally even posting them on her own Instagram. In early December, she posted a shot of her and big sis Ivanka at the White House Christmas tree lighting celebration. She wrote,
lovely night at the annual National Christmas Tree Lighting! @ivankatrump
OK, so it's not quite as heartfelt and adorable as the shot of her as a little kid, but, hey homemade cookies are hard to beat. And anyway, families are all about growing together and finding new ways to spend time. Tiffany Trump has gone from gingerbread houses to the White House.
But I hope she still has that teal turtleneck. That sweater is on point.