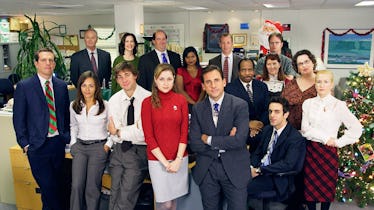 'The Office' Cast Had A Big Reunion & Recreated The Show's Most Classic Photo
NBC
This is one office party I definitely wish I hadn't missed. Amidst ongoing rumors of a reboot series and weeks after a mini-reunion happened on Saturday Night Live, the majority of The Office cast reunited to celebrate the holidays. ICYMI, this The Office reunion photo is the seasonal dose of nostalgia we need right now.
Ever since the demand for reboots and revivals spiked in the last few years, the beloved NBC comedy has been high on TV fans' wish lists for more. Although it only ended in 2013, The Office has had a healthy streaming life on Netflix, meaning thousands of younger fans who missed its original run have caught up in the five years since its finale. While leading man Steve Carell has been vocal about not wanting to do a reboot series, his former co-stars feel differently, with most expressing interest in some kind of reunion special.
During his recent SNL hosting gig, Carell reunited with some Office stars to seemingly confirm that he'll never commit to a reboot, but it looks like the Dunder Mifflin employees might be plotting something behind Michael Scott's back. On Dec. 2, The Office co-stars and real-life BFFs Jenna Fischer and Angela Kinsey both posted photos from a huge cast reunion that original showrunner Greg Daniels hosted. If you managed to stay composed during that series finale, these photos might be what finally gets you to shed a tear.
While Kinsey posted a regular group pic and said the day felt like "a family reunion," Fischer tweeted a photo meant for diehard Office fans. Posing in character, the cast tried to recreate a promotional photo originally taken for the Christmas season on The Office set. Although some people in the new photo weren't even in the first shot and a few actors are missing, all this recreation needs to be a perfect holiday card is a Santa hat. Could that Christmas card possibly announce an Office return in 2019?
Featuring Fischer, Kinsey, and Daniels, the picture also includes actors Rainn Wilson, Ed Helms, Brian Baumgartner, Oscar Nuñez, Phyllis Smith, Leslie David Baker, Creed Bratton, and Paul Lieberstein. Carell, Ellie Kemper, John Krasinski, BJ Novak, Mindy Kaling, Craig Robinson, and Kate Flannery missed the hangout, but as this is the closest we've gotten to seeing a full-fledged cast reunion, I'm not complaining.
Speaking of Christmas on The Office, Krasinski has joined Carell in not necessarily wanting a full series reboot. Instead, the Jack Ryan star has spoken about stepping back into Jim Halpert's shoes for a holiday special. Earlier this year, Krasinski told IndieWire:
I think the UK thing that I always have pitched and wanted to do is that Christmas special thing, where we do a Christmas special this year and then two years from now, or three years from now, we do another one. I love that idea coming back finding out where everybody is. I would totally be down for that.
OK, but Dwight would totally steal Jim's idea to share as his own, right? I wouldn't put it past Wilson to sneakily pitch the idea of a Christmas special at this brunch when Krasinski was busy being Mary Poppins' supportive husband. Still, even if a reboot of The Office isn't meant to be, it's always nice to know that the cast still love each other.
The Office is currently streaming on Netflix.