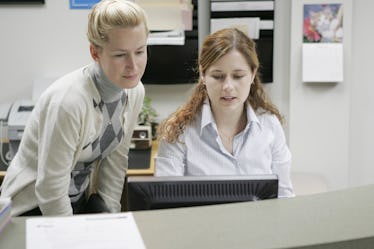 Pam & Angela From 'The Office' Are Going To Be On TV Together Again, But Not In Scranton
NBC
You may not have always been the biggest fan of Angela on The Office, but actress Angela Kinsey makes up for her character's flaws by being an avid source of any Office fans' nostalgia. She recently reenacted her portion of the show's famous fire drill scene with former co-star Oscar Nuñez, but Kinsey will soon have a reunion with another Office co-star on TV. Angela Kinsey will be on Splitting Up Together to reunite with the show's leading lady Jenna Fischer.
Fischer and Kinsey have been vocal over the years about their real-life friendship, often posting throwback photos of their time together on the Office set. From showing off their matching hoodies to supporting each other's professional endeavors, the duo are definitely one of Hollywood's greatest unsung friendships. Kinsey has previously spread the word about Splitting Up Together, Fischer's ABC series following a couple that decide to divorce but still live together and co-parent, but thanks to a cute reveal the BFFs shared online, we now know she'll appear alongside Fischer in the show's second season this fall.
On Instagram, Fischer posted a video in which she calls Kinsey, who was filmed in her car by her daughter. In the clip, Fischer asks Kinsey if she's free to come visit her on set this week, and when Kinsey says she is, Fischer drops the news that she's getting a job on Splitting Up Together. TBH, their excited reactions are exactly how I felt when I heard this news.
For anyone wondering if the conversation was staged, Kinsey seemed to debunk that theory when the video hit social media. She took to her own Instagram to divulge about her side of the phone call, writing:
My bff @msjennafischercalled me last week while I was in the grocery store parking lot. She asked if someone could film my side of our conversation... so my mind was racing!! And guess what... we are going to get to work together again! I'll be a guest on her show!!
At this rate, it looks like we don't even need to deal with the cruelness of persisting Office revival rumors, because Kinsey has managed to pull off some epic co-star reunions without having to hit up Scranton again. There's no official word on what kind of character she will play on Splitting Up Together, but maybe the women will veer away from their old characters' careful coolness toward each other and play childhood best friends on Fischer's show.
On the other hand, it would also be hilarious if Kinsey plays a love interest for Fischer's character's ex-husband Martin. In Season 1, attraction between Martin and Fischer's Lena eventually rekindled when both of them saw the other as a single person again. Kinsey coming between them would definitely allow for a new dynamic between her and Fischer, who were often quiet but casual adversaries as Angela and Pam in the Dunder Mifflin office.
Splitting Up Together has already caused a stir among Office fans for Fischer's onscreen relationship with an actor who isn't John Krasinski. Before the series premiered, plenty of ABC viewers tweeted that they just couldn't fathom "Pam" without "Jim." Seeing as the show was still picked up for a second season, it looks like enough fans got over the casting difference to watch the series and warm up to the idea of Fischer essentially not being Pam Beesly.
I'm keeping an eye out for any more Instagram shots of Kinsey and Fischer on set together, and we'll have to wait and see if any subtle references to The Office are included in Kinsey's first episode. Season 2 of Splitting Up Together premieres on Tuesday, Oct. 16, at 9:30 p.m. ET on ABC.