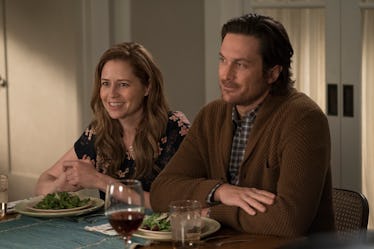 'The Office' Fans Are So Pissed Jenna Fischer Has A New Husband On 'Splitting Up Together'
Ross and Rachel, Meredith and Derek, Jim and Pam. Some TV couples have warmed our hearts so much that fans sometimes can't bear to see the actors behind these characters play opposite anyone else on a new TV show. The Office's Jim and Pam, played by John Krasinski and Jenna Fischer, are particularly special to viewers. So understandably, some Office diehards aren't taking to Fischer's new TV romance too lightly. On her upcoming ABC series, Fischer plays a woman who continues living with her husband after beginning divorce procedures, and tweets about Splitting Up Together have The Office fans missing Pam and Jim.
Premiering on Tuesday, March 27, Splitting Up Together is something you're definitely familiar with if you kept up with The Bachelor this year. Based on the constant commercials alone, I already have my own theories about when Fischer's Lena will regrettably sleep with her soon-to-be-ex husband Martin and cause awkward tension between them. But it's been far too long since Fischer starred on a network series, so Office fans definitely aren't complaining about her returning to TV.
However, in an appearance on The Ellen DeGeneres Show alongside co-star Oliver Hudson, Fischer revealed that her being married to someone else on the Ellen-produced show has social media pretty angry. She encouraged fans to give her character's relationship with Hudson's Martin a chance:
I tweeted something about the show. I tweeted a clip, and then there were a lot of responses of like, 'He's NOT Jim!' in anger... I really think people are going to be won over. I really do. I think this relationship, people are going to get just as invested. I believe in it, and I know it's making people angry, but I think that they should just hate watch the show. Just hate watch it, be mad, and then all of the sudden, you're going to fall in love.
Fischer isn't kidding about Twitter revolting against the faux marriage. Plenty of her followers aren't adjusting to the idea of Fischer existing in another TV relationship well.
This isn't the first time that fans have taken their adoration of Jim and Pam to the extreme. Some viewers have even rooted for Krasinski and Fischer to get together in real life, even though they're now both married with children. In 2016, someone tweeted at Fischer saying that the actors not being a real couple upset him. Fischer told the fan that both she and Krasinski have found their equivalents of Jim and Pam in their actual spouses. Krasinski and his wife Emily Blunt are my celebrity OTP, so I love Fischer's gentle reminder that TV love is usually just that.
While a majority of Twitter users seem skeptical about Hudson (the brother of Kate Hudson, FYI), a select few are optimistic about the new relationship of Splitting Up Together.
As for those rumors of an Office reboot, Fischer is ready to go if the idea plays through. Speaking to E! News in February, she spilled on her thoughts about a revival and what Jim and Pam would be up to today:
I think the idea of an Office revival is — I think it's a great idea. I would be honored to come back in any way that I'm able to. I loved playing that character, and as long as Greg Daniels is the person in charge and the visionary behind it, then I would absolutely be up for it. I like to imagine that [Pam's] working in some sort of artistic field, continuing on her streak of doing murals and being commissioned as an artist... And just enjoying watching her kids grow up with Jim. I hope they're really happy, you know?
Until the possibility of seeing Jim and Pam together again is official, angry fans can try giving Fischer's new TV relationship with Hudson a chance. Splitting Up Together premieres on Tuesday, March 27 at 9:30 p.m. ET on ABC.