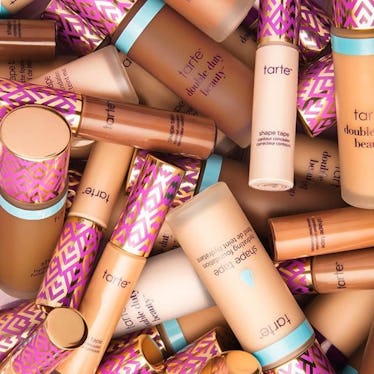 Tarte Is Putting Literally Everything On Sale — Even Shape Tape — & We've Got The Exclusive Code
I'm crazy about saving money. I try not to do too much online shopping unless it's Cyber Monday, Black Friday, or I have a promo code to enter at checkout. But because my makeup restocking needs don't always align with long-weekend and holiday sales, a girl's gotta do what a girl's gotta do. However, Christmas came early this year, because our friends at one of our favorite makeup brands just sent us this Tarte coupon code that saves you 15% off of everything on the brand's website for the next couple of days. Whether you're in the market for their new Fairy Dust brush set, another drawer's-worth of Shape Tape, or the Cosmic Maracuja Concentrated Face Balm that will have you singing 24K Magic all day long, this promo code will save you some serious cash. And what do we do with all the money we save on makeup? Buy more makeup, of course.
But before we get into the details of the code, can we just talk about all the pretty products we're about to buy? Because if there's anything that I love more than shopping, it's talking about what I got, how I'm going to wear it, and how much money I saved on it.
Those really cute fairy-wand inspired makeup brushes that launched last week are still at the top of my shopping list, so guess what, I'm getting my promo-code-filled hands on them today. The Limited-Edition Pretty Things & Fairy Wings Brush Set ($42; tartecosmetics.com) is about to score prime real estate on the top of my vanity — these are too pretty to throw in a drawer.
And in case the makeup brush set isn't enough to channel your inner woodland nymph (trust me, I'm right there with you), the 15% off coupon code can also be used on vaults like this Limited-Edition Love, Trust & Fairy Dust Vault ($110; tartecosmetics.com). To give you a better idea on how major 15% off can be, this set of makeup brushes, eye and cheek palette, fairy dust, blush and mascara will only cost you $93.50. Praise!
If given the chance to run loose in an Ulta Beauty, I don't know a single beauty junkie that wouldn't stop for a handful of Double Duty Beauty Shape Tape Contour Concealer ($27; tartecosmetics.com) right off the bat. With its creaseless, full-coverage, matte formula, it's no wonder it continues to be a favorite among beauty editors and bloggers alike.
Because one of my favorites continues to be the OG Tartelette Amazonian Clay Matte Palette ($46; tartecosmetics.com), this one's coming with me after my shopping spree. I'll never not be obsessed with matte neutrals, so it's always to keep one of these in my stash at all times.
Now that summer is in full swing, I'm swapping my go-to moisturizer (a thick face cream) for something much lighter, but still super hydrating. The Drink Of H2O Hydrating Boost Moisturizer ($39; tartecosmetics.com) is perfect for summer because it's gel-like texture melts into your skin without making you look greasy. My favorite trick is to pop it in the fridge when it gets really hot out — every time you slather it on, it cools you down and makes your skin look incredible.
OK, so now that we have a few items in our shopping carts, here are the deets on the discount. During checkout, enter elitextarte on tartecosmetics.com to get 15 percent off everything (vaults, limited-edition items, OG staples, literally everything!) from now until Wednesday, June 13. That's only a couple of days, so if I were you, I'd get on it now. Happy spending!