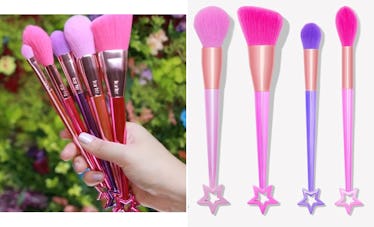 Tarte Just Dropped Limited-Edition "Fairy Wand" Brushes & They're Practical Magic
Tarte Cosmetics
Until I was about nine I wholeheartedly believed I was a fairy princess from a faraway land who had been wrongfully transported to the boring human world. (Sob.) I jumped at every chance I got to don tutus and wings and channel my true self. Tarte's Fairy Dust brush set, which dropped today, would've been a welcome addition to my collection of all things glittery and pastel (I believed that the world I was truly meant to live in looked something like a cross between Barbie's dream home and Princess Bubblegum's castle) and have hit a nostalgic nerve so hard that I'm actually considering buying them. Eat your heart out, little Ariana!
The best part is that the brushes, which boast a high sheen finish and have little stars at their tips, are only one part of an entire magical collection. Called Love, Trust, & Fairy Dust, it includes an array of products—from a palette and mascara to blush and eyeliner—that's all fantastically themed, meaning its never been easier to bring out your own inner winged creature. Everything is cute and glittery and will definitely remind you of days spent pretending you were riding rainbow ponies and saving your kingdom from the evil tyrant, Bad Norton. (Norton was my family's Irish Wolfhound who seemed to only like my dad and regularly stole food off of the kitchen counter. So Naughty.)
I love to shop Tarte products whenever I can because of their dedication to creating offerings that are cruelty-free and vegan. They're also guaranteed to be made without parabens, mineral oil, triclosan, sodium lauryl sulfate, and gluten, meaning they are way cleaner than a majority of other options out there.
Check out the best pieces from Tarte's new collection below and sit back and delight in the ways it makes your childhood self bubble with joy.
Star Power
I'm sorry, Harry Potter, but these brushes-cum-wands are way cooler than the ones you and your friends wield! The set includes an eyeshadow brush, liquid highlight brush, powder highlight brush, cheek brush, and powder foundation brush, meaning all of your bristly needs are covered.
Petal to the Metal(lics)
Featuring 10 eyeshadows and one highlighter in warm, floral shades, this palette's got everything you need to make your eyes pop. Go for a more muted look with all matte hues or opt for maximum shimmer and leave a dusting of glitter everywhere you look.
Mascara Wand
Tarte's fan-favorite Lights, Camera, Lashes Mascara gets a magical update with its sparkly pink pouch. The vegan formula lengthens, curls, columizes and conditions, meaning your lashes will stop people—or wood nymphs!—in their tracks.
That's the Case
This glittery magnetic palette is refillable—customize it with your favorite makeup pans for a bloom of pigments you love. Whether you want to fill it with eyeshadow, blush, bronzer, or highlighter, the sky is the limit.
Sweet Apples
I've been obsessed with Tarte's Amazonian Clay Blush since I can remember. It's the perfect combination of subtle shine and gorgeous color and lasts all day, to boot. This new hue, a light rosy pink shade, is perfect for summer and boasts a compact filled with tons of tiny twinkling stars.
Twinkle in your Eyes
Another new shade for one of Tarte's best-sellers! The brand's favorite vegan, duel ended waterproof liquid eyeliner and gel pencil is now available in a shade of deep chocolate brown. As a blue-eyed girl, I've always chosen brown liner over black for the way it makes my irises pop, so this rocks. Plus, it comes with a little star charm attached to one end. Wishes do come true!