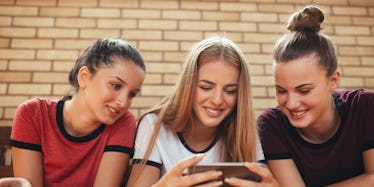 This Super Bowl Workout Game Is The Only Way To Stay Awake If Football Bores You
Super Bowl Sunday is almost here, and that means tasty nachos, spicy wings, and sporty decorations galore. Whether you're a diehard football fan, or you honestly couldn't care less, chilling with your friends and bonding over America's favorite pastime (the halftime show counts, too!) is always a fun way to spend a Sunday. This year, you can even spice up your Feb. 4 celebration with a Super Bowl workout game that will leave all the guests at your party feeling stronger and sweatier than ever by the time the game is over.
Look, hear me out: No matter what your level of fitness is, this game is sure to be a great addition to whatever you've got planned for your Super Bowl festivities. And TBH, if you're known to snooze through most of the game each year (hello, it me), this is a great way to make sure your blood keeps flowin' and you actually stay awake long enough to see what sort of surprises go down at the halftime show (it's always something).
If at any point you want to throw in the towel after one too many burpees, remember that those athletes on your TV screen are absolutely kicking ass, all while freezing their butts off in the dead of winter in the chilly state of Minnesota. If they can do it, you can do it.
Try this workout game on Feb. 4 when you and your guests want to add a twist to a typical Super Bowl Sunday. You can reward yourself with all the nachos afterward, I promise.