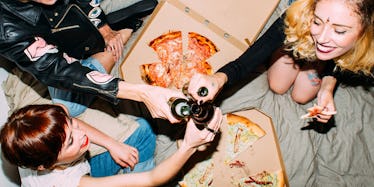 These Super Bowl Party Games Are Perfect If You Couldn't Care Less About Football
The Super Bowl is kind of upsetting because it's the one Sunday a year that it's not socially acceptable to go to brunch. I mean, I guess you'll be eating and drinking to your heart's content anyway, but like, it's just not the same, you know? Nevertheless, you can still make the most of the sporty Sunday with some entertaining Super Bowl party games that might even make you forget that you have no idea what the f*ck is going on in the game. What is sports, amirite?
I get it, I get it — I'm probably in the minority when I say that watching huge dudes in helmets aggressively tackle each other over the possession of a rubber ball just doesn't thrill me. But I still grin and bear it, and I make an appearance at my BFF's Super Bowl bash every single year. It's a great opportunity to indulge in some kickass nachos and have quality conversation as the game casually plays in the background... what can I say?
This year, however, I'm totally suggesting that we play some party games to really get into the spirit of America's favorite past-time and feel festive AF. If you, too, are totally lost when it comes to sports, here are five Super Bowl party games you can play without actually having to know what's happening on the big green turf.