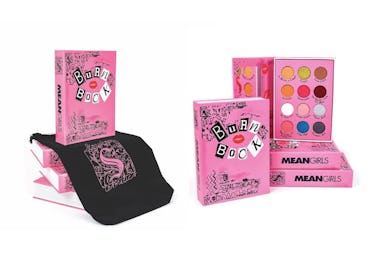 Storybook Cosmetics Released A Fetch 'Mean Girls' Burn Book Palette & It's, Like, Really Pretty
Courtesy of Storybook Cosmetics
It seems as if, lately, Mean Girls is having a major moment, but then again, when hasn't the cult-favorite movie had a moment since its release in 2004? Just this week, the film has resurfaced in two very public ways, once again proving that it is still and will probably always be a classic. First, the Storybook Cosmetics x Mean Girls Burn Book Eyeshadow Palette launched in stores and online at Ulta. Second, Ariana Grande teased a Mean Girls-inspired music video for her new very popular single "thank u, next." The music video teaser even features none other than Jonathan Bennett (aka the ever-so-dreamy Aaron Samuels) and has even gained some major props from one of the OG mean girls, Lindsay Lohan.
While Grande teased the music video on Friday, Nov. 23, the exact release date is still to be determined. But lucky for all of the fans who adore Regina George and the Plastics, the Storybook Cosmetics x Mean Girls Burn Book Eyeshadow Palette ($55, Ulta) should hold you over until the music video's debut... because it's, like, really pretty.
The 12-pan eyeshadow palette features an array of not regular shades, but cool shades that come in three different finishes: matte, shimmer, and pearl. What's almost as good as the bold colors is their names. Each shade has appropriately been dubbed a popular quote or character from the movie. (You know, those lines that you and your friends have religiously recited since 2004.) There's "Is Butter a Carb?" a pearlized butterscotch; "Grool," a gold shimmer; "Glen Coco," a matte cocoa; "So Fetch," a matte tangerine; "Wednesday," a matte pink; "She Doesn't Even Go Here," a matte reddish brown; "The Plastics," a matte white; "Regina George," a pearlized pink; "Mouse, Duh..." a grey shimmer; "You Can't Sit With Us," a matte bubblegum pink; "Cool Mom," a pearlized blue; and "October 3rd," a black shimmer.
While the inside of the palette doesn't feature any photographs of any fellow North Shore High School students or teachers, it does come equipped with a full-size mirror, as well as a black velvet pouch, making it perfect for traveling. Unfortunately, the palette can't really help you out if you have bad breath in the morning.
In addition to having totally fetch names, the eyeshadows are also super pigmented with a high color pay-off, and they can be applied wet or dry, depending on your preferred level of boldness. The texture of each shade is buttery and smooth, so there won't be a lot of fall out, making for an easy, smooth application.
Storybook Cosmetics describes the palette as being "totally fetch, carb-free, and cruelty-free" which is great for if you happen to be "a homeschooled jungle freak" (JK, you're not a freak) who really cares about all of the little birdies and the little monkeys you grew up with in Africa.
The Mean Girls-inspired eyeshadow palette marks Storybook Cosmetics' first product sold at Ulta, and if the movie's success and fandom that remains 14 years later is any indication, the palette can't help it that it's popular, so I'd suggest copping one as soon as possible.