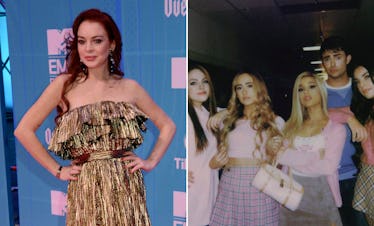 Lindsay Lohan Reacted To Ariana Grande's "Thank U, Next" 'Mean Girls' Tribute On Instagram
Dave J Hogan/Getty Images Entertainment/Getty Images/Ariana Grande on Instagram
Friends and family, we are gathered here today to bask in the glory of Ariana Grande's upcoming music video for "Thank U, Next." After the singer released a music video teaser that is basically Mean Girls version 2.0, minds were officially blown. To have THE Aaron Samuels back on my screen with his fantastic hair? Next-level genius. To have "Plastics" wannabes talking confession-style to the camera? Unreal. It's all almost too good to be true, and yet, a Mean Girls-style video is totally happening. SO. FETCH. We all know that fans are beyond pumped for the video — but what about the original Mean Girl herself, Cady Heron, aka Lindsay Lohan? Well, Lindsay Lohan's reaction to Ariana Grande's Mean Girls tribute proves that she's not just a regular actress, she's a cool actress, and supports our girl Ari through and through.
The 32-year-old actress (and official creator of the Lilo challenge) took to Instagram on Tuesday, Nov. 27, to share a behind-the-scenes picture of herself looking all glammed up.
"Behind the scenes 🎬 ain't nobody Lindsay Lohan like the real Lindsay Lohan," she wrote. "But so flattered by @arianagrande loving #MeanGirls so much! Also, I love #dynasty."
Ugh. She's like, really pretty.
(If you think that I'm not going to pepper in Mean Girls references throughout this whole post, you couldn't be any more wrong.)
Honestly, I love that Lohan is not only flattered that Grande is shooting a video as a tribute to the 2004 classic movie, but also beyond supportive of the whole thing. You go, Glen Co — erm, LiLo!
And in case you somehow missed Grande's teaser trailer on her social media accounts, then let me fill you in. Filled to the brim with celeb cameos, the teaser shows just how perfectly the "Thank U, Next" music video is going to be by recreating some of the original film's most iconic moments.
The teaser starts out with YouTube star Colleen Ballinger (you may know her as Miranda Sings), saying, "One time on Twitter, I heard Ariana was pregnant, so I got pregnant so we could be pregnant at the same time. Turns out it was just a rumor." Kind of perfect timing here, since Ballinger actually is pregnant, so... nailed it!
Then, actor Jonathan Bennett, aka the actual Aaron Samuels, appears and says, "Ariana Grande told me my hair looked sexy pushed back. She's not wrong."
Grool.
We also realize that Ariana Grande clearly has a sense of humor, and jokes about her broken engagement to Pete Davidson in the teaser video.
Actress Stefanie Drummond (who actually played the girl who said Regina George punched her in the face) appears on screen and says, "Ariana broke off an engagement, so I found a guy to propose to me, and I broke off an engagement."
There's also a cameo made by Australian pop star Troye Sivan, who says, "I heard she's a lesbian now and dating some chick called Aubrey. It's f*ckin' sick," as well as a few other hilarious rumors by other actors. All in all, the teaser is essentially prepping us for a beyond glorious spin on one of the best comedy movies of our era.
Check Ariana Grande's "Thank U, Next" teaser below. There's no way you can't be in love with it:
And if you're wondering just how much I love the video... the limit does not exist.
OK, that's it, you guys. I'm officially tapped out of Mean Girls references. I'm confident I've made enough to make both Lindsay and Ariana proud.