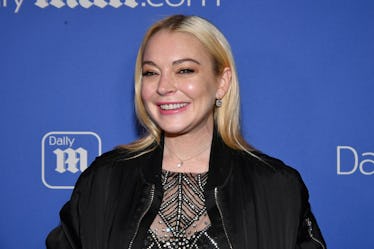 These Videos Of People Doing The "Do The Lilo" Challenge Are Too Funny To Handle
Slaven Vlasic/Getty Images Entertainment/Getty Images
While everyone is still so hyped up over the #InMyFeelings challenge, you're missing out on a completely new dance craze that is taking the world by STORM, and it is one that you won't soon forget. It involves someone you may remember who goes by the name of Lindsay Lohan — have you heard of her? Well, she's apparently living it up in Mykonos, Greece, and is going viral after a video showing her getting her groove on was posted to Instagram. Fans are hereby declaring her moves "The Lilo," and I am living for it. But now, we've been blessed with many on social media creating their very own "Do The Lilo" challenge videos, and hilarious doesn't even begin to cover it.
Your favorite Parent Trap actress was caught on video by an onlooker who was vacationing at the Lohan Beach House hotel in Mykonos (yes, you guys, Lindsay Lohan has her very own hotel, and what have I been doing wrong in my life that I don't have my own hotel before I've reached the age of 30?). The video depicts the 32-year-old celeb in a ~shiny~ silver romper, showing off some iconic moves that are... well, indescribable, really.
On Sept. 3, the clip was uploaded to Instagram, and trust me, you're going to want to watch it at least 100 times:
Do you see that rhythm? Do you see that form? WERK IT, GIRL.
Then, our girl Lindsay decided to re-post the video — except she swapped the dubstep music for the classic song, "Do The Hustle," captioning it, #DoTheLilo, and it is all sorts of glorious:
I AM CRYING, YOU GUYS.
Because this is actual gold, it didn't take long for the Do The Lilo Challenge to make its rounds across the internet, and many fans did their best to recreate the now legendary dance routine.
Celebrities even got in on the fun, taking to Instagram to upload videos of themselves doing the Lilo, like actress Busy Philipps and her friend Kelly Oxford:
She wrote, "@kellyoxford and I are trying our best to give you full Mykonos Lohan this Friday night. Honestly, it's weirdly harder to nail than it seemed. Respect." World's favorite human Chrissy Teigen commented on the video, writing, "For the love of god can I come over," while Jenna Dewan wrote, "You kill me." It's killing everyone, really, but in the best way possible.
Other fans of Lindsay Lohan also showed the internet how it's done, like this guy:
And these guys:
AND OH MY GOD, THIS GUY:
Absolutely nailing it with that red wig!
These two know exactly how it's done (and props for utilizing the handrail behind them):
These two are also totally on point. Maybe Lindsay should consider some backup dancers?
Don't forget about this #squad that tried. They really, really, tried:
The moves are there, but perhaps testing out the choreography a few more times to really get in unison wouldn't hurt? It is, however, absolutely hilarious to watch.
And if you thought kids can't participate, you're dead wrong:
You've gotta wait until the end for this one, but a little kiddo does make a cameo:
But I have to officially hand out my award to this Instagram user, who not only dressed like Lindsay, but nailed the moves FLAWLESSLY (as you can see from the side-by-side video below):
I could scroll through the #DoTheLilo hashtag for hours, you guys. I feel so, so blessed.
And now, I know exactly what I'll be wearing for Halloween. Thank you, Lindsay!