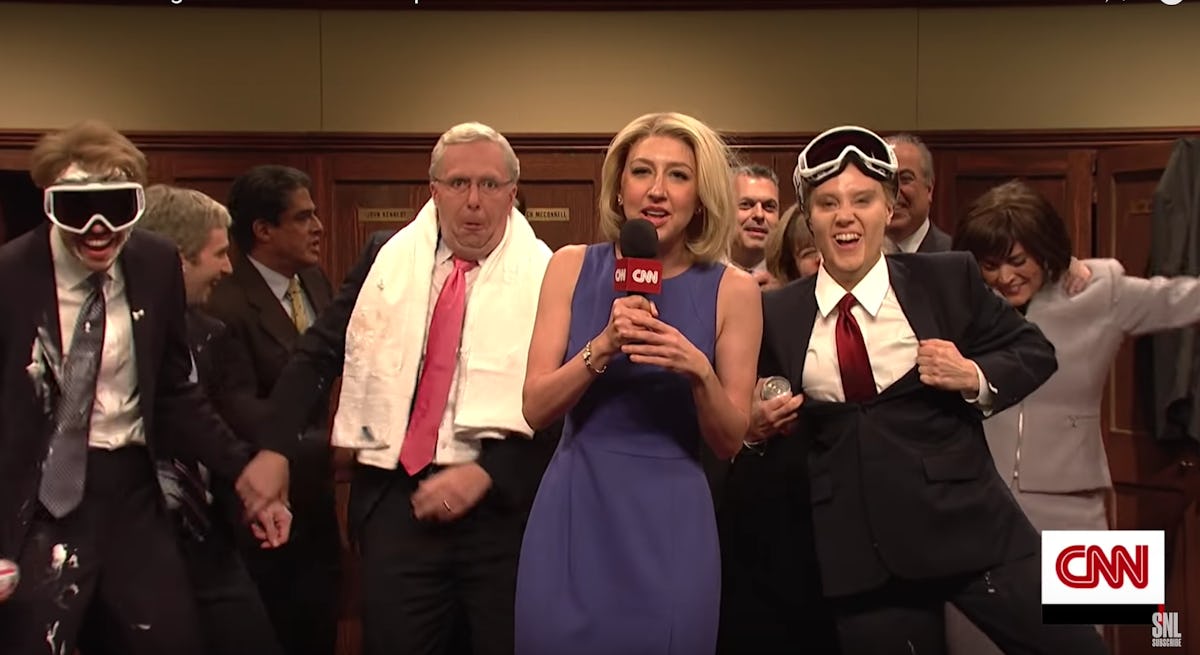 This 'SNL' Sketch With Lindsay Graham Celebrating Kavanaugh's Confirmation Has Twitter Divided
YouTube/SNL
Hours after the country learned that Brett Kavanaugh had been confirmed to the highest court in the United States, Saturday Night Live attempted to make light of the situation with a comedy routine that's making a lot of people say it's just too soon to try to find the humor. On Saturday, Oct. 6, the Senate voted to confirm Kavanaugh with the narrowest margin in a century, just as SNL returned to portray the celebratory spirit in the conservative camp for its second episode of the season. This SNL "GOP Locker Room" sketch about Kavanaugh's confirmation shows Republicans partying it up in the locker room with ski goggles, Miller Light, and "horny male energy," and Twitter is so divided about it.
On Saturday, the cast of SNL rang in the second week of their 44th season with another reference to the Kavanaugh-Ford saga that's dominated the country's attention for the past few weeks. However, unlike last weekend's sketches which found the comedy in Kavanaugh's emotional and angry testimony denying sexual assault allegations during his hearing, courtesy of Matt Damon, the group was tasked with making light of a far less entertaining aspect: the fact that Brett Kavanaugh will now become a Supreme Court justice for life and likely point the country in a conservative-leaning direction for the next couple decades when it comes to important issues like women's health, abortion rights, and immigration.
SNL decided to set the stage in a fictional locker room where CNN reporter Dana Dash (played by Heidi Gardner) interviewed the euphoric senators. To start, Senate Majority Leader Mitch McConnell (taken on by Beck Bennett) proudly told the camera, "Republicans read the mood of the country and we could tell that people really wanted Kavanaugh. Everyone's pumped — from white men over 60 to white men over 70."
Meanwhile, Kate McKinnon, who reprised her role as Sen. Lindsay Graham to perfection, proclaimed, "We made a lot of women real worried today, but I'm not getting pregnant so I don't care!"
Next up was Cecily Strong's Sen. Susan Collins, who has come under fire for offering a lengthy defense of her decision to confirm Kavanaugh on Friday, Oct. 6.
"The last thing I wanted was to make this about me — that's why I told everyone to tune in at 3 p.m. so I could tell all my female supporters, 'Psych!' " Strong said. "Listen, I think it's important to believe women until it's time to stop."
During the sketch, Pete Davidson's Senator Jeff Flake got a pie in the face, Montell Jordan's "This Is How We Do It" blasted in the background, and the conservatives got a Miller High Life beer shower going as Graham (who refers to Kavanaugh as the "Natty Light of judges") appeared to suggest that protesters are actually supporters, referencing conspiracy theories touted by President Trump that mass protests over Kavanaugh's confirmation have been staged by paid actors.
"This one is about the fans. They've been there for us all week, cheering and screaming outside of our offices," McKinnon as Graham told the camera. "And I know that they agree with us because they're shouting out, 'Me too.'" You'll recall that on Friday, Sept. 28, two protesters approached Sen. Flake while he was entering an elevator, and it appears that their plea for him to listen to sexual assault survivors may have helped him call for a supplemental FBI investigation ahead of a confirmation vote. Contrary, to McKinnon's Graham's assessment, they didn't agree with a Kavanaugh confirmation.
All in all, the cold open is pretty depressing for those who hoped that Kavanaugh would not be confirmed — especially given McKinnon's closing line that she hopes that the Republicans can "keep this horny male energy going 'til the midterms" — and a lot of people are failing to find the humor in the whole situation.
Reactions are definitely mixed, with some viewers finding the sketch cathartic while for others, it's just too soon to try and laugh this off. Saturday Night Live returns on Saturday, so I'll be staying tuned to see if they keep their political streak going for next week's cold opening.