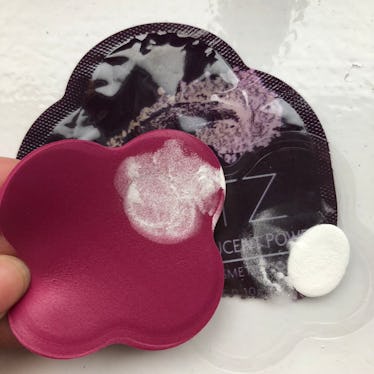 This Adorable Product Absorbs Oil & Applies Powder Without Making A Mess In Your Bag
Daley Quinn
I'll be the first to admit that I'm not the biggest fan of translucent powder — I hate piling on more product over my powder foundation, and I'm not willing to lug around another tub of "magical" dust in my purse. And that's why I'm the perfect gal to write a Setz Beauty Powder review, because these petal-shaped beauties are that good. Listen up because I'm about to *blow* your mind.
Through some trial and error, I've found that a lot of translucent powders do their job right after application, but slowly cause foundation to crease and get cakey after just a few hours. Thankfully, this was not the case when I tried the Setz Beauty Powders ($4 for pack of 5, Setz Beauty). Since I basically only wear powder foundation everyday (the Alima Pure Satin Matte Loose Powder Foundation in Warm 2 ($28, Alima Pure) in case you were wondering), I find that my face gets less shiny than when I venture into liquid foundation territory.
That being said, there are still days when my T-zone is covered in oil and sweat (especially during these recently muggy days in NYC) and I could benefit from some blotting.
I tried these pads just before I was about to give up on translucent powders all together, and I'm so glad that I did. Setz is the first disposable, individually-wrapped cosmetic blender that features a double-sided design. One side is basically an alternative to a blotting paper, soaking up excess oil, while the other side features a plastic tray loaded with translucent powder (which apparently absorbs seven times its weight in oil). Just dip the spongy pink petal into the powder, pat onto your oily spots, and watch excessive shine disappear while your makeup comes back to life.
This powder not only left my makeup looking cake-free and in one piece after many hours of wear, but I was impressed by how flawlessly it blended right into my skin. The texture feels silky, not chalky like traditional setting powders usually do. Honestly, there's enough setting powder in each tray for multiple applications throughout the day, and I like to put the tray and sponge back into their opened plastic pouch and sit it upright in my purse (so it doesn't spill) until I'm ready for another round.
I love how portable and user-friendly the individually packaged setting powders are, and I find them super easy to throw in any makeup bag, backpack, car's glove compartment, pocket, or anywhere honestly — they don't weigh a thing.
Since humans are basically destroying the Earth with all of our excessive packaging, it was nice to discover that these products are recyclable, are manufactured using wind and solar power, and the manufacturing excess is converted into playground flooring. It made me feel a tiny bit less guilty about the fact that they're each individually wrapped. All in all, the Setz Beauty Powders gave me faith in translucent setting powders, and I will definitely be keeping these in my purse for on-the-go touch ups from here on out.