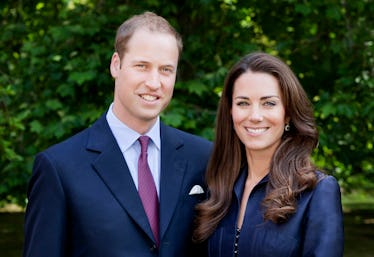 Figure Out What Your Royal Name Would Be With This Fancy British Name Generator
When Prince Harry and Meghan Markle's engagement was announced, I thought to myself, "Americans can get it!" Then I thought, "Why didn't I try harder to get wifed up by a royal?" And I eventually stooped so low as to think, "When Prince George is 25, how old will I be?" (Oops! That's a 25-year age difference! Goodbye, royal dreams!) Plus, I don't exactly see the name "Kimmy" being deemed appropriate by Queen E as a royal name.
What's in a royal name, you ask? The first ingredient is a super fly prefix or royal title. I'd want to be a "Viscountess." (I have no idea where that falls in the hierarchy of Bristish nobility, but it sounds quite badass.) Then, you add one part solid, British first name that could have trended in both 1667 and in 2018 — think Victoria. Next, a redundant first middle name — the Beatrice to your Victoria. Followed that up with a second, more outlandish middle name — hello, Rosamund! Eventually rounding the name out with a last name that is either hyphenated or overtly British — is there a Kensingfordshire family?
Since none of us will be marrying into the royal family in the near future (aside from some toddler who cannot read yet and probably lives in Britain), why not use Elite Daily's convenient little generator to find out your royal name? Pretending is fun.
Royal Title
For your royal tile: what is your favorite breakfast food?
Poached Eggs — Princess
Fried Eggs — Duchess
Bacon — Her Royal Highness
Pancakes — Countess
Waffles — Queen
Cereal – Baroness
Granola — Earl
Fruit — Lady
Bagel and Cream Cheese — Mistress
Bagel with Lox – The Right And Honourable
Breakfast Taco — Marchioness
"I don't eat breakfast." — Viscountess
First Name
For your first name: what's your sign?
Aries — Elizabeth
Taurus — Victoria
Gemini — Anne
Cancer — Caroline
Leo — Charlotte
Virgo — Margaret
Libra — Eleanor
Scorpio — Camilla
Sagittarius — Mary
Capricorn — Catherine
Aquarius — Meghan
Pisces — Diana
First Middle Name
For your first middle name: what's your favorite hot beverage?
Earl Grey Tea — Beatrice
English Breakfast Tea — Eugenie
Black Coffee — Sophie
Matcha — Georgia
Hot Water with Lemon — Sarah
Instant Ramen — Zara
Hot Toddy — Autumn
Mulled Wine — Louise
Skinny Latte — Grace
Herbal Tea — Alexandra
Second Middle Name
Your second middle name: what's your favorite form of water? (Think outside the box.)
Ocean — Henrietta
Pool — Imogen
Lake — Nimmy
A Glass Of Water — Octavia
A Bath — Cordelia
A Shower — Rosamund
Rain — Prunella
LaCroix — Felicity
Tears – Portia
Last Name
Your last name: who is your favorite character from Downton Abbey?
Violet Crawley — Crawley
Isobel Crawley — Crawley (Duh.)
Lady Mary — Crawley-Talbot (See what I did there?)
Robert Crawley — Grantham (Got you! he's the Earl of Grantham.)
Charles (Charlie) Carson — Carsonham (Had to beef it up.)
John Bates — Bates-Windsorside (Because why not?)
Thomas Barrow — Barrow-Ness (Yes, I think I'm funny.)
Mrs. Patmore — Patmore-Buttsington (Not punny? @ me.)
Lady Rose MacClare — MacClare (Back to basics.)
As it turns out, I would be "Marchioness Camilla Mary Henrietta Patmore-Buttsington," so alas, the joke is on me. Now that I've gifted you with your royal new Instagram handle, I hope you'll throw a party for the royal wedding and force all of your friends to wear name tags with their royal names on them too. Enjoy, Lady Elizabeth Eugenie Nimmy Grantham, and cheers to an American addition to the royal family!