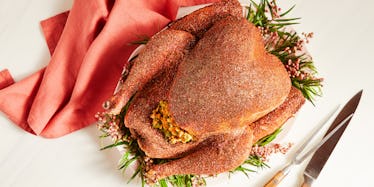 You Can Make Your Turkey Sparkle On Thanksgiving With This Glitter Turkey Recipe
Reynolds Wrap
OK, I'll say it: I don't always want to eat turkey on Thanksgiving. The last several Thanksgivings, my family and I have eaten salmon, barbecued brisket, and roasted chicken in place of the gamey bird. But this new recipe from Reynolds Wrap has me reconsidering my anti-turkey choices. Why the change of heart? For starters, this bird is covered in glitter (and yes, you can eat it). Any turkey that is covered in glitter is welcomed at my Thanksgiving table. This Reynolds Wrap Glitter Turkey recipe is so easy to make.
Just when you thought that Thanksgiving couldn't possibly get any better, Reynolds Wrap decides to create a turkey made with edible glitter. So, how do you make it? It's slightly different from the traditional turkey recipe your mom makes. The recipe for the turkey can be found on the Reynolds Kitchen website. For starters, you will need to make your own edible glitter. (Don't let that part deter you. This glitter turkey recipe is totally Insta-worthy.) There's no doubt that your Thanksgiving is going to sparkle and shimmer with deliciousness when you make a glitter turkey.
You only need a few ingredients to make the edible glitter: Gum-Tex Tylose powder and liquid food coloring (or pearl dust). You should be able to find these products at a nearby craft store. Make sure to read the recipe for the full instructions, but you don't have to be a cooking whiz to figure this one out. Just make sure to multiply the amount to match the size of your turkey.
For example, if you have a 16-pound turkey, Reynolds Wrap recommends making 12-16 individual batches of edible glitter. I say make 16. It never hurts to have extra and you want to be sure the bird has a thorough coating of the sparkly stuff. The more glitter, the better, IMO.
No turkey is complete without stuffing. Reynolds suggests making Big Mac Stuffing, Crunch Wrap Supreme Stuffing, or Popeyes Fried Chicken and Biscuits Stuffing to go with your glitter turkey. I know, it's a hard choice. I'm intrigued by the Crunch Wrap Supreme Stuffing, but I'm not sure how well that would pair with Thanksgiving turkey. TBH, I'll probably play it safe and whip up a batch of the Popeyes Fried Chicken and Biscuits Stuffing.
Reynolds Wrap is building up a big reputation as a purveyor of unique Thanksgiving turkeys. You may remember last year when the kitchen products company cooked up a Flamin' Hot Cheetos Turkey. The untraditional twist on Thanksgiving's favorite bird piqued the interest of some and totally turned off others. I'm not saying I would love a slice of Flamin' Hot Cheetos Turkey, but I would try it.
I can't wait to see what Reynolds Wrap dreams up for next year's Thanksgiving feast. For now, you can find me at the Thanksgiving table snapping pics of my glitter turkey for Instagram. I'm starting to think I won't be carving the turkey this year — it's just too pretty for me to ruin. I'll leave that part up to somebody else, before I have a slice.