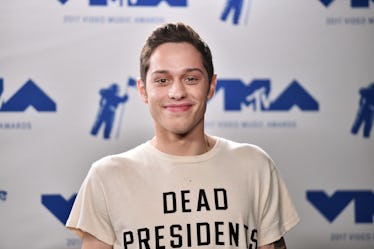 Pete Davidson Just Made A Subtle Change After His Breakup With Ariana Grande
Alberto E. Rodriguez/Getty Images Entertainment/Getty Images
While you were busy burning pictures of Ariana Grande and Pete Davidson looking head-over-heels in love, Davidson was busy getting a teeny, tiny, new makeover, because there's nothing more therapeutic than a new ~lewk~ after a major breakup. Whenever I went through a breakup, the first call I made was usually to my mom or a friend. The second call was to my hairdresser. And it looks like the Saturday Night Live comedian is following suit, because this photo of Pete Davidson's post-breakup haircut is making me feel super nostalgic (and is also making me consider a fresh new 'do, myself).
According to People, the 24-year-old made a hair appointment with celebrity barber Micah Walker. While he didn't dye his platinum locks back to his natural color, he now has a frosted-tip look and a hair trim, and, to be honest, it's working on him. His new cut makes him look dapper, but his color still shows that he's still adventurous and, you know, "cool."
Walker took to Instagram to show fans a picture of him and Davidson post-cut. "My boy @petedavidson came thru for the fresh cut," the barber captioned the photo, with a chipper-looking Davidson giving a thumbs up. The first thing I noticed was the fancy-schmancy wall behind them. Why does this barbershop look like it belongs in a mid-century European castle? (To be clear, I'm not mad about it, I'm actually jealous.) The second thing I noticed was how good Pete Davidson looks with a barber shop cape draped over him. Why is it that when I wear a cape to get my hair done, I look like a wet rat?
Anyway, check out the photo below to see how good (dare I say foxy?) Davidson cleans up:
Proof that a little self-care goes a looong way.
This update is much more comforting than the previous one we received from Davidson. According to E! Online, Davidson's first comments about his breakup came during his first public appearance after his split with Grande at the comedy show he co-hosted with Judd Apatow entitled Judd & Pete for America at the Coronet in West Hollywood on Saturday, Oct. 20.
According to the site, Davidson reportedly told the crowd, "Well, as you could tell, I don't want to be here. There's a lot going on."
Sadness.
He then reportedly told the crowd about his tattoos — two of which he got to honor his 25-year-old ex-fiancée. According to E! Online, Davidson then told the crowd, "Um, I've been covering a bunch of tattoos, so that's fun. I'm f**king 0 for 2 in the tattoo [department]. Yeah, I'm afraid to get my mom tattooed on me, that's how bad it is."
Double sadness.
Davidson also reportedly said,
So, obviously you know I, we broke up or whatever but when me and her first got engaged we got tattoos. And it was like in a magazine like, 'Was Pete Davidson stupid?' And 93 percent of it said yes. So my boy, he was like, 'Don't listen to that s**t man. They're literally f**king haters.' And I'm like, yeah, f**k that. I'm not stupid. And the other day we were in my kitchen and he was like, 'Yo bro. Turns out you were stupid.'
It's OK, Pete. You were just young and in love. But next time, perhaps consider getting something a little less permanent to honor the love of your life... like a haircut! You'll thank me later. Trust.