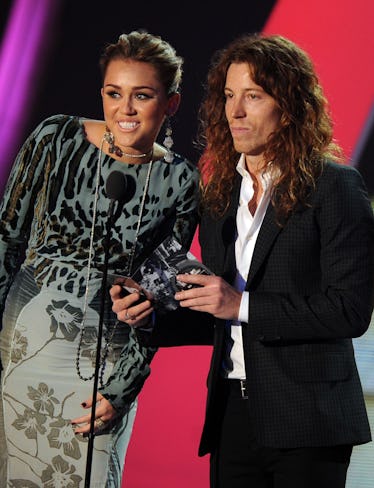 Miley Cyrus & Shaun White Took A Photo Together & TBH, It's Legendary
Kevin Winter/Getty Images Entertainment/Getty Images
Shaun White won his third gold medal for snowboarding in PyeongChang, South Korea, last week after his historic final run in the men's halfpipe event. It was a truly epic moment, and what better way to celebrate it than by partying in the USA with another famous legend? It's time to put your hands up and throw a Jay-Z song on, guys, because the athlete is chilling at home with a major rockstar, and this photo of Miley Cyrus and Shaun White has me feeling all kinds of jealous.
The "Mailbu" singer hit up her Instagram account on Feb. 21 to share a v. cool photo of herself hanging out with a pink hoodie-clad White. She's got the Olympian's popular dog Leroy in one hand, and a white prayer candle with White's image on it in the other. Oh, and get this — Cyrus has the snowboarder's brand spanking new gold Olympic medal draped around her neck in the shot, too, because of course she does!
"Chillin' with an American legend… and I mean @leroythegoodboy," the 25-year-old pop star captioned the pic. "Kidding @shaunwhite, you are the sh*t! So badass! Proud of you!"
I'm kind of obsessed with this picture and TBH, I will probs spend several hours zooming in and analyzing all the stuff White has casually stashed in those white bookcases back there. Like, is that a Ganesha's elephant above his head? It's supposed to provide fortune, prosperity, and success, so I guess it makes total sense for White to have one.
The 31-year-old snowboarder — who earned the nickname "The Flying Tomato" thanks to his formerly long and curly, bright red mane that's since been cropped short — had already won two Olympic gold medals prior to last week, but came back for another go-round after crashing into a 22-foot superpipe during a training sesh in New Zealand and receiving 62 stitches in face. But I am so glad we all got to witness his amazing comeback, because White is now the first snowboarder in history to ever win a third gold medal. Well done, sir!
So how does Cyrus fit into all this? The pair have been friends for a while, and were rumored to be dating back in 2015, after the singer posted a pic of them on Insta driving around LA in a convertible together. She even managed to convince him to get a small tattoo of Flaming Lips frontman Wayne Coyne in a bubble on his forearm, while he was chilling at her house during an Easter party. But in reality, the two are just buds, and Miley is good friends with White's girlfriend, Sarah Barthel, too.
Meanwhile, my favorite thing to come out of this friendship is the fact that we now have a name for the big candle Cyrus is holding in the picture she posted above, because the company that made it apparently knows a good marketing opportunity when it sees one, and rolled up on Twitter to clue us all in:
Not gonna lie, I am obsessed with the name "Illuminidol" because it is legit so perfect. I may just have to start collecting these bad boys, especially since they said they're making one of Leroy the dog.
The pooch has his own Instagram account, by the way, and he's already got almost 34,000 followers which is just so impressive for such a teeny, tiny thing. And can we just take a moment to appreciate this little guy's fashion sense? I mean, check out those socks!
Will we get to see Leroy rocking Shaun's Olympic bling next? A girl can dream. But in the meantime, I'm totally pre-ordering that candle.