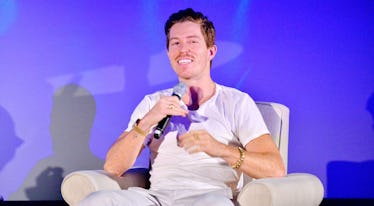 Shaun White's Net Worth Will Make You Literally Gasp
Jerod Harris/Getty Images
We are only a month away from the 2018 Winter Olympics, and for Team America, all eyes are on star snowboarder Shaun White. One of the most famous faces at every Winter Olympics, White is currently in the process of qualifying for his fourth trip to the worldwide competition, but he has made a major name for himself outside of the world of sports as well. In fact, Shaun White is like, insanely rich from a ton of different ventures. Seriously, you need to see Shaun White's net worth to believe it.
Thanks to his prodigy-level success in snowboarding (and skateboarding as well) at a young age, Shaun White has managed to juggle multiple lucrative endorsement deals since he just seven years old. As his name continued to grow thanks to taking home Olympic gold medals in 2006 and 2010, so did his major endorsement deals, and he took advantage of entrepreneurial opportunities in releasing his own line of video games and snacks, and purchasing a couple of commercial ski resorts. All of this has led to White being a multi-millionaire, with his net worth currently estimated to be somewhere between $40 million and $45 million, taking home one fourth of that amount as his annual salary and another fourth estimated to be from endorsements.
Aside from his prominent snowboarding career, Shaun White is also an accomplished musician and actor. He plays guitar, and was part of the electronic rock band Bad Things before the group disbanded in 2015. According to a recent USA Today interview, White is currently taking piano and singing lessons, so more music could be coming from him in the near future. And White has also carved out a spot for himself in the acting world, appearing in a number of guest spots throughout the years on big projects like 2011's Friends with Benefits.
But the big question that Shaun White fans are wondering right now is whether or not he will be going to Pyeongchang, South Korea for the 2018 Winter Olympics in February. White failed to medal at the 2014 Winter Games in Sochi — his first year to not win gold — and he is currently recovering from a massive snowboarding crash while training in New Zealand a few months back, which resulted in 62 stitches to close the wounds on his body. But aside from that, Shaun White is still a favorite to qualify for the 2018 US Olympic team. White assured the Chicago Tribune that the injury was actually more superficial than actually debilitating in any way, and seems to be in good spirits as he competes in the qualifying events, which are currently under way. If he succeeds in qualifying, this will be Shaun White's fourth trip to the Winter Olympics.
From the sounds of things, fans will most likely be seeing Shaun White back on his snowboard for the 2018 Winter Olympics in a months time. The star athlete has already taken home two gold medals in his signature event, the halfpipe: one in his debut year of 2006 in Turin, and the second four years later in Vancouver. White just missed out on the podium his third time at the Olympics in 2014, finishing his event in fourth place, so you can bet that he is fired up to take home another medal this year. The US Olympic team will announce whether Shaun White has qualified to join this year or not in a couple of weeks.
The 2018 Pyeongchang Winter Olympics will officially begin on Feb. 9, airing on NBC. They will continue throughout the month, concluding with the televised closing ceremony on Feb. 25.