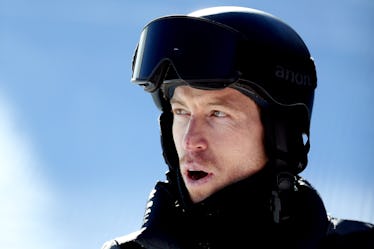 Shaun White Is Back On His Board For The 2018 Olympics After A Nasty Injury
Matthew Stockman/Getty Images Sport/Getty Images
The Winter Olympics are coming up in February, and after a crash he sustained in New Zealand in 2017, fans are wondering if popular snowboarder Shaun White will qualify to participate. The athlete sustained a bad injury that required 62 stitches and left him with a bruised lung when he had a bad fall while training in New Zealand, but he's seemed to be on the mend recently, according to recent interviews. So is Shaun White competing in the 2018 Olympics? That's still up in the air, as he still has to qualify to be able to participate in the games that begin in just a short few months in South Korea.
On Nov. 1, White sent a video to the TODAY Show detailing his gruesome injury, but he ensured fans that he fully intends on being in Pyeongchang come Friday, Feb. 9 when the 2018 Winter Olympics kick off. He told the TODAY Show in his Nov. 1 video, "I'm really sad and bummed that I couldn't be there today for the 100 days out." The 100 Days Out Celebration is an event held every Olympics when the beginning of the games are just 100 days away. He continued, "I don't know if you can tell from my face, but most recently I took a bad crash while I was training in New Zealand." He added,
I was working on a new trick, and as I re-entered the halfpipe, I clipped the top. I flew about 22 feet and hit my face at the bottom, and had 62 stitches and I had some bad bruising in my lungs. My modeling days may be over, but I will definitely be there in 2018 in Pyeongchang for the Olympics.
White posted a photo of his facial injuries while he was still in the hospital on Oct. 21.
He said in his caption,
I've always lived my life by pushing the limits. Winning is great, but it's the tough times that truly define you. I took a slam while training the other day, but don't worry I'll be back soon and better than ever!! Thanks @beatsbydre for bringing me into the family. #NormalisBorning #1of1 #RockNRoll.
He posted another selfie just a month later that showed his facial wounds were all patched up.
By the time the first Olympic qualifier rounds came up on Dec. 9, White was ready to compete.
White spoke with Us Weekly on Nov. 1 about his injuries and his hopes for this year's Olympics. He told the outlet, ""I'm feeling good. Honestly, it was more of an alarming thing than anything, like any pain or any longterm injury. It's always not the best scenario to hit your face, but it was more alarming than anything." He continued, "I've definitely been close to something worse and I got my stitches and the doctors did an amazing job, so I'll be back looking normal any day now."
He also told the outlet that the injury, while it looked gruesome, wasn't as scary for him as it was for his family. He said he was frustrated with himself because the trick he was doing when the fall happened was a trick he's been doing for a while. It was apparently one of those situations where you've practiced and practiced something, but you inexplicably make a dumb mistake one day. He said,
That was the most frustrating part when I crashed, I was sitting there bleeding and all that was going through my head was how annoyed I am and how pissed off I am because I knew exactly what I did wrong. It's like hitting the curb when you're trying to parallel park or something. You're like, 'God, I've done this a million times! I'm an idiot!' That's how I look at it.
Despite going confident into the Dec. 9 qualifier rounds, White came in 14th and won't be able to attempt to qualify again until later this month. In order to make it to the final round of that particular qualifier, he needed to come in at least 12th place, according to NBC Sports. Still, NBC Sports says he's a contender for the Olympics, so we'll have to wait and see what happens at the other qualifier rounds this month. But as of right now, it's not set in stone whether or not Shaun White will be competing in the 2018 Winter Olympics.
To learn more, visit teamusa.org. The Winter Olympics will air live starting February 8.