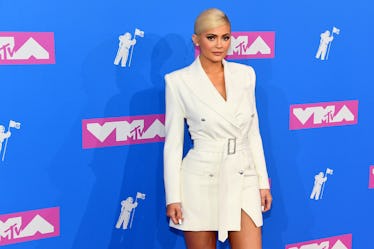 Kylie Jenner & Baby Stormi Twinning In Matching Skeleton Costumes Is Too Cute
Nicholas Hunt/Getty Images Entertainment/Getty Images
Kylie Jenner is continuing to keep everyone guessing when it comes to her policy on sharing photos of baby Stormi and her chubby cheeks. It's almost baby Stormi's very first Halloween, y'all, and according to Jenner's Instagram, the tot is going all out when it comes to her scary-good disguise this year. Amidst the beauty guru's spooktacular preparations for the scariest night of the year, this photo of Kylie Jenner and Stormi in matching skeleton costumes, which was shared to her Instagram account (then deleted) on Friday, Oct. 26, proves that they're the best mother-daughter partners in crime.
Jenner took to Instagram to post, and then delete, a photo of her and her 8-month-old bundle of joy dressed in twinning black skeleton onesies with the caption "Girls Halloween Dinner," and my heart can't handle the cuteness. In keeping with her general policy of not posting photos of her baby daughter's face, Jenner — dressed in a skeleton-printed black one-piece and oversized monster slippers — can be seen sitting on her couch while she holds little Stormi in her arms. The general adorableness of the duo's matchy-matchy moment notwithstanding, I couldn't help but be completely floored by the lipstick maven's festive decor, which can be seen in the background. If you need further proof that Kylie Jenner is the official queen of Halloweentown, look no further than the star's Instagram Story which shows her home after undergoing the spookiest makeover.
On Friday night, Jenner clearly spared no attention to detail with decorative skeletons decked out in flower crowns and gauzy black mesh dresses, faux bats flying around, and a dining table dressed to the nines in red velvet, aka blood and guts. TBH, her ghoulish set-up is Halloween party goals.
The Keeping Up With the Kardashians' star's feast of the dead is particularly impressive, with skeletons making their final repose on the dining room table amidst plenty of candles, goblets, a random hand, and ghostly innards, portrayed by red fabric and plenty of glitter.
An Instagram tour of Jenner's home shows the undead reclining in front of her fireplace, settling in at the glittery table, and even making the bathroom their final rest stop.
For the living members of the sleepover party, things were only slightly more lively. Jenner treated guests to skeleton cake pops decorated in keeping with the theme of the night, and she took to the social media platform to post a selfie of her and her three mystery guests — all dressed in the same matching black-and-white skeleton onesies.
While baby Stormi doesn't make an appearance in the group shot, the entrepreneur has been making it easier for us to keep up with her daughter lately. On Wednesday, Oct. 23, Jenner took to Instagram to gift her followers with photos of her little family as she, rapper Travis Scott, and her baby headed to Underwood Family Farms for a full day of fall fun-tivities. In addition to photographic evidence of Kylie's bundle of joy checking out her first pumpkin patch (aww), cuddles in a haystack, and Stormi befriending some baby goats, Jenner also shared some rare full-face photos of her little one that prove once again that yes, the almost 9-month-old has the cutest, chubbiest cheeks in the land.
Kylie Jenner might have totally owned Halloween 2016 with her now-iconic recreation of Christina Aguilera's "Dirrty" costume, but IMHO, this year's too-cute mother-daughter costume might take the cake.