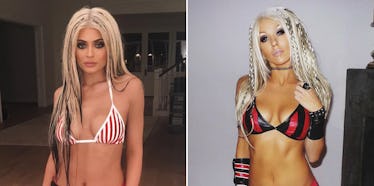 Kylie Jenner Ran Into A Model Who Also Wore A Sexy Christina Aguilera Costume
Instagram
Uh-oh! 
Someone might've accidentally snagged Kylie Jenner's spotlight this Halloween.
Kylie Jenner basically owned Halloween this year after dressing up as Christina Aguilera from her music video for "Dirrty," which was originally released back in 2002.
I'll admit she did a GREAT job.
From the striped bikini top to the leather chaps, she nailed this costume.
But she wasn't the only one who perfected Xtina's famous look this Halloween.
A model showed up to a Halloween party that Kylie also attended wearing the SAME EXACT COSTUME. Talk about AWKWARD!
Meet Australian model Imogen Anthony.
She wore the same costume Kylie Jenner wore this Halloween.
In one of the photos she posted on Instagram, she claims she saw Kylie and said, "oh hey girl... You look familiar." Ouch!
Kylie's loyal fans have spent the weekend calling Anthony out for "copying" Kylie.
Other people think Imogen wore it best...
Even a video Kylie posted was identical to Imogen Anthony's video. Here's Kylie's...
AWKWARD. Here's Imogen's...
The Australian model has expressed her obsession with Xtina on previous occasions.
So the question remains: Is this just some kind of funny coincidence, or did one of them copy the other?
We may never know. But what we DO know is that Christina Aguilera herself liked Kylie Jenner's costume...
However, Rihanna liked Imogen's. I'm not kidding.
In the past, Imogen dressed up as Harley Quinn from "Suicide Squad."
Kylie dressed up as a sexy skeleton earlier this month. It's pretty obvious that both Kylie and Imogen have awesome costume ideas.
Look, I don't know who had the genius idea to recreate Christina Aguilera's legendary outfit from her 2002 "Dirrty" music video... But I do know that BOTH Kylie and Imogen owned their look.
Once you catch the eyes of queens like Rihanna and Christina, there isn't much anyone can tell you otherwise.
Let's just put it this way: We got way more than we deserved by being blessed with not one, but TWO "Dirrty" Xtina's this year! Play nice, ladies.
Citations: Kylie Jenner Had an Awk Run-In With a Model Also Dressed as Christina Aguilera on Halloween (Cosmopolitan)