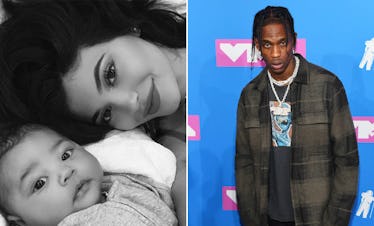 Kylie Jenner Just Posted The Cutest Photos Of Her & Travis Scott Pumpkin Picking With Stormi
Kylie Jenner/Instagram/Nicholas Hunt/Getty Images Entertainment/Getty Images
You know that fall is officially here when the temp starts to dip, sweaters start to appear, and pumpkin everything is all over social media. I'm talking pumpkin spice lattes, pumpkin beer, and, most importantly, the original pumpkin-themed activity: pumpkin picking! And apparently, celebs and their families are just as wild about pumpkin patches as us normal folk, and these photos of Kylie Jenner, Travis Scott, and Stormi prove that their little family is just as obsessed with fall as everyone else.
The Keeping Up With The Kardashians star and beauty mogul took her daughter, 8-month-old Stormi Webster to the Underwood Family Farms alongside her boyfriend, rapper Travis Scott, on Wednesday, Oct. 23. The reason for their trip? Corn mazes, pumpkin picking, and petting some furry creatures, according to TMZ... aka, my dream day of planned fall activities.
And, while all of this sounds pretty damn adorable all by itself, the fact that there's photographic evidence of the fun-filled day is making my actual life complete, you guys. That's right, Kylie Jenner posted pictures to her Instagram page to show her fans just how precious her little family is.
I truly don't know how to thank Kylie for all of the images that I'm about to post. Eternally blessed and grateful, fam.
The first photo Jenner posted was of a teeny, tiny Stormi sitting in a vast field of pumpkins, and she captioned the photo, "first pumpkin patch 🎃":
Are you squealing with delight? Because I'm squealing with delight.
And if you thought that photo was the definition of perfect, then think again, because Jenner's second photo was of herself, Scott, and little Stormi sitting on a haystack, basically showing the world that they now have the most adorable family photo:
This one better get framed, or I'm going to have a bone to pick with Kylie.
Honestly, these two photos were more than enough to make me happy, but Jenner took things a step further and posted yet again, with one picture of Scott holding and kissing little Stormi, and another of Jenner and Stormi bottle-feeding a little baby animal (I *think* it's a goat, but I'm no farmer so don't quote me on it):
If, at this point, you're in Stormi-overload mode (a great place to be, TBH), then let me just finish off with the precious photos Jenner shared on her Instagram story.
Are you ready to see Kylie cuddling Stormi in a pumpkin patch?
How about Travis holding Stormi on his shoulders?
The cuteness...my heart...can't take...the cuteness...
I can't believe how big Stormi has gotten already. It seems like she was born just yesterday, and yet she's nearly nine months old. And, while Jenner kept fans in the dark during her pregnancy, it's been pretty nice seeing her post updates so frequently about her little lady.
In her post confirming that she gave birth, she took to Instagram on Feb. 4, just days after welcoming Stormi into the world, and wrote in part,
I'm sorry for keeping you in the dark through all the assumptions. I understand you're used to me bringing you along on all my journeys. My pregnancy was one I chose not to do in front of the world. I knew for myself I needed to prepare for this role of a lifetime in the most positive, stress free, and healthy way I knew how ... My beautiful and healthy baby girl arrived February 1st and I just couldn't wait to share this blessing. I've never felt love and happiness like this I could burst!
Thankfully, Jenner's been much more willing to show us all updates of her daughter on social media, so, on behalf of all of us, Kylie, I want to express our sheer gratitude. Keep 'em coming, because Christmas is right around the corner and I basically need to see a holiday card from you.