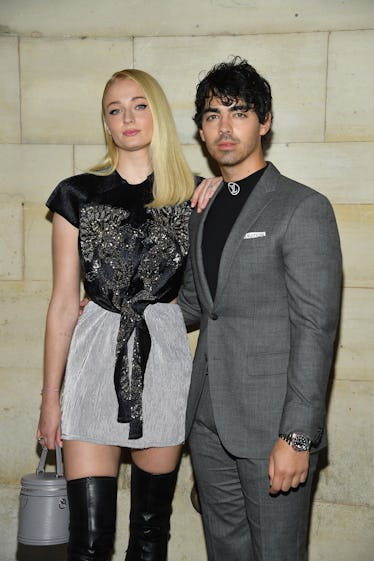 Joe Jonas' 'Game Of Thrones'-Inspired Halloween Costume Is A Shoutout To Sophie Turner
Pascal Le Segretain/Getty Images Entertainment/Getty Images
Can we talk about Joe Jonas for a quick sec? Because dude just totally won Halloween and it's only Oct. 29! Wanna know how? The DNCE singer honored his finacée, Sophie Turner, by dressing up as her iconic Game of Thrones character for a costume party and, like, OMG he is legit future-husband-on-Halloween goals! Seriously, you guys, the whole thing was actually so sweet yet also completely epic — swepic? — and you really have to see this photo of Joe Jonas' Sansa Stark Halloween costume to appreciate how totally dope his medieval heroine look was.
OK, so according to Marie Claire, the couple hit up Kate Hudson's Halloween party on Oct. 28. And if there was ever an event I'd kill to score an invite to it would be this one. I mean, Nina Dobrev came dressed in a unicorn onesie. Olivia Munn envisioned Yeezy Season 27. And whatever else went on in there was apparently so intense that Jessica Alba reportedly had to chug water straight from the bottle afterward while still dressed up as Betty Rubble.
Sidebar: Does this mean Cash Warren was channeling Bedrock's Barney Rubble that night? Or better yet, Wilma Flintstone? Because if so, then I'm def gonna need to see a pic of that ASAP.
Anyway, back to Joe Jonas, who transformed into Stark by donning a turquoise velvet dress with gold piping and an amazing wig of flaming red hair.
Check out this picture Jonas shared on his Instagram:
It's so good, right? Although maybe he should have shaved? Just a thought. But how cute is Turner as an elephant down in front?
"Another Saturday Nite," Joe captioned the image.
You want a closer look at Jonas' lewk, don't you? You're in luck, because here's a full-length shot he posted on his Instagram story of himself getting out of the car:
Work it, Joe!
He also posted a video of himself dramatically arriving into the room to the GoT theme song:
He is just so committed to not breaking character, you know? So does this mean we can expect to see Jonas show up in a cameo during the final season of Game of Thrones with his fiancée? Sadly, it's not looking good for the former JoBro.
"I would have [made a Game of Thrones cameo] in a heartbeat, but unfortunately, it's not going to happen," he told Variety earlier this month. "That would have been amazing. I would have loved it."
Same. Although, I do have to ask: Who do you think makes a better heroine — Jonas as Stark or Wells Adams dressed up as Belle?
It's definitely a close call (um, do these two share a hairstylist?), but I'm gonna have to give the edge to Adams for showing up with a clean-shaven face.
That's Sarah Hyland dressed up as a taco next to Adams, by the way. Because taco + Belle = Taco Belle.
I know, it's really, really good. So maybe Jonas didn't win Halloween after all. But he definitely gave an A-plus performance and came in a close second, which means it's like Camp Rock 2 all over again.