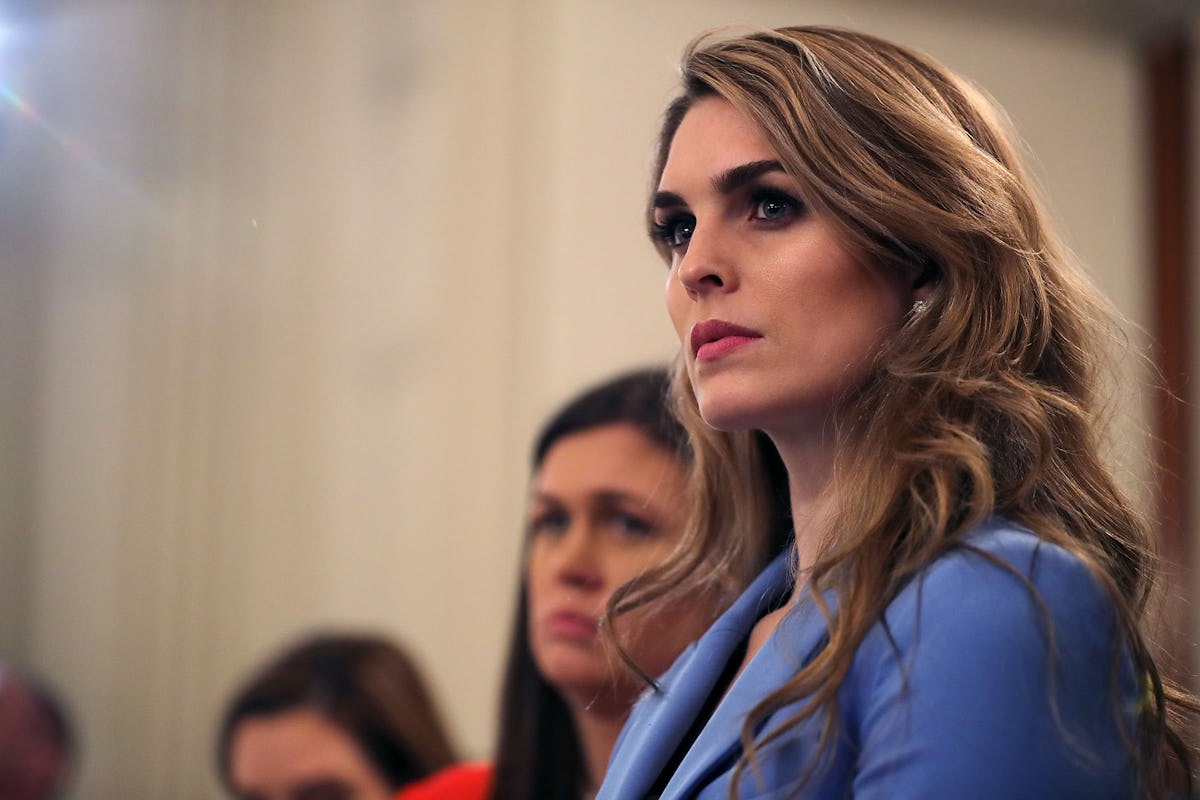 This Photo Of Hope Hicks Might Mean She's Team Donald Trump Again
Chip Somodevilla/Getty Images News/Getty Images
Just when it seemed that the Trump administration was dropping like flies, things might be taking a turn. How, might you ask? Well, a photo of Hope Hicks boarding Air Force One has surfaced, and I've never been so confused. Welcome back, I guess? (And good luck, girl.)
On Aug. 4, former White House Communications Director Hope Hicks was spotted boarding presidential jet Air Force One just ahead of Donald Trump's rally for Republican Troy Balderson in Ohio. Hicks resigned from her position as communications director in February, and little has been heard from her since she called it quits.
It's still unclear why exactly Hicks was boarding Air Force One in the first place, but according to Talking Points Memo, Hicks reportedly spoke with reporters "off the record" after the campaign rally. Back in February, Hicks announced that she had been planning to resign from her White House position for "months," and relayed to a close friend that she had "accomplished what she could do" as communications director.
Hicks apparently joined Donald Trump in Ohio as a last-ditch effort to show support for Republican Troy Balderson, who is currently running against Democrat Danny O'Connor to represent Ohio's 12th Congressional District in the House of Representatives. I don't know about y'all, but I'm truly lost as to why Hicks was there in the first place.
The beginning of 2018 was a hard time for the Trump administration to say the least. Hicks was just one of many White House staffers that left their positions during the first year of Trump's presidency. However, Hicks' possible reason for leaving the White House was arguably better than most. Just a day before her resignation, Hicks went through an eight-hour testimony in front of the House Intelligence Committee where she admitted that she was required to tell "white lies" throughout her job. However, she was quick to say that she never lied about anything involving the Russian interference investigation during the 2016 election.
Donald Trump spoke to The New York Times in February praising Hicks for her three years of service, saying that he'll "miss having her" by his side.
He said,
Hope is outstanding and has done great work for the last three years. She is as smart and thoughtful as they come, a truly great person. I will miss having her by my side but when she approached me about pursuing other opportunities, I totally understood. I am sure we will work together again in the future.
Is it just me, or is that "I am sure we will work together again in the future" statement looking like it's coming full circle? To be honest, Donald Trump and the rest of his administration could use all the help they can get at the moment. Not only is the current president facing an emoluments lawsuit, which claims that he's been personally benefitting from payments made by foreign governments, but he's also still under the eye of FBI Special Counsel Robert Mueller for possible collusion between his presidential campaign and Russia during the 2016 presidential election. From the beginning, the White House has denied that Donald Trump has personally benefitted from any payments made by foreign governments or officials.
Hicks may have called it quits a few months ago, but it looks like at the very least, she's hanging out with her old boss again. Only time will tell what it means, I guess. We'll just have to wait and see.