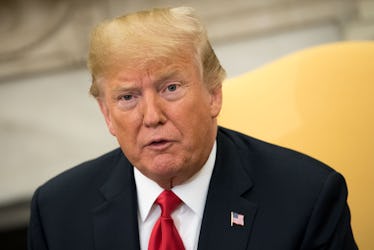 Donald Trump Isn't Getting Out Of That Lawsuit About His Finances & The Constitution
Pool/Getty Images News/Getty Images
This past month has certainly not been the easiest time for Donald Trump. From the mass protests that followed the United States leader all around the world, to the recent indictment of 12 Russian intelligence officers for meddling with the 2016 presidential election, Trump clearly has a lot on his plate at the moment. Well, here's one more thing to add to the list: the emoluments lawsuit against Donald Trump is apparently heating up.
On July 25, Politico reported that Maryland U.S. District Court Judge Peter J. Messitte ruled that the lawsuit against Donald Trump, which alleged that he violated the Constitution's emoluments clause by personally benefiting from payments made by foreign governments, can proceed. This is definitely bad news for Trump's lawyers, who fought to dismiss the case.
For those who aren't familiar with the lawsuit against Trump, here's a quick breakdown. In June 2017, the state of Maryland and District of Columbia sued the president by claiming that he personally benefited from payments made by foreign governments and dignitaries using the Trump International Hotel in Washington D.C. How is that? Despite his new role as president, Trump still benefits financially from his company and the profit his businesses make, as he never divested from his business holdings. Former White House Press Secretary Sean Spicer addressed the allegations during a press conference in June 2017 by claiming they are politically motivated, and made sure to point out that the lawsuits were filed by states with Democratic attorney generals. He said,
It's not hard to conclude that partisan politics may be one of the motivations. The suit was filed by two Democratic attorney generals. The lawyers driving the suit are an advocacy group with partisan ties. It actually started with a press conference as opposed to filing it, which is interesting.
Well, apparently the White House's argument wasn't good enough for Judge Messitte, who on July 25 declared that the lawsuit will proceed and there's a credible case that Trump might be receiving financial perks from his affiliation with his Trump hotel franchise.
Messite wrote in his decision,
Since the president's election, a number of foreign governments or their instrumentalities have patronized or have expressed a definite intention to patronize the hotel, some of which have indicated that they are doing so precisely because of the president's association with it.
Elite Daily reached out to the White House for comment on the case and the decision to allow it to move forward, but did not immediately hear back.
According to The Washington Post, as of May 2018 there have been seven foreign government events and overnight stays at the D.C. hotel paid for by foreign governments. Even though the Trump Organization has claimed that the money from these foreign governments often go to charity, it's still questionable whether Trump personally benefits financially from the situation. At the very least, as Judge Messitte noted, it appears that foreign dignitaries are using the hotel as a way to curry favor with the president. "Why wouldn't I stay at his hotel blocks from the White House, so I can tell the new president, 'I love your new hotel!'" one unnamed Asian diplomat told The Washington Post in mid-November 2016, shortly after the presidential election and before Trump took office. "Isn't it rude to come to his city and say, 'I am staying at your competitor?'"
The emoluments clause in the Constitution directly prohibits a president from accepting gifts, payments, or other benefits from foreign nations or dignitaries. Even though foreign dignitaries may not be lavishing the president with literal gifts, the lawsuit claims that since Trump is financially benefitting by foreign dignitaries using his hotel, that it's in violation of the clause.
Donald Trump might have taken a step back from his company after securing the presidency, but the business is still very much in family hands. Though Trump is no longer overseeing the day-to-day, he's given over control of the company to his two eldest sons, Donald Trump Jr. and Eric Trump.
His affiliation with outside business ventures have certainly been a controversial topic throughout his presidency, but this impending lawsuit is just one of a few legal worries Trump is facing at the moment. For one thing, Trump might be in big trouble after admitting he repaid his lawyer, Michael Cohen, who himself admitted in February to paying adult film actress Stormy Daniels for her silence about an alleged affair with the now-president in 2006. Trump has consistently denied the claims of an affair. But in late April, Daniels announced that she was suing the president for defamation over his assertion that her story was a lie and that her claims that she had been threatened over the alleged affair were a "con job."
I guess we can chalk this lawsuit up to yet another struggle the United States' leader has to face. Grab your popcorn folks, this presidential soap opera apparently isn't ending any time soon.