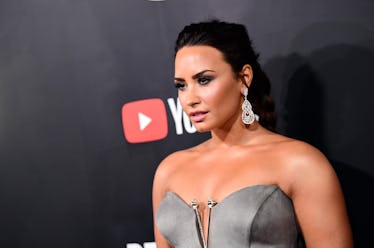 Demi Lovato Tweeted A Photo Of Herself In A Wedding Dress, & What Does It Mean?
Emma McIntyre/Getty Images Entertainment/Getty Images
Be still your hearts, Demi Lovato fans. There just might be a wedding coming up for the pop singer in the very near future. Well, kind of. This photo of Demi Lovato in a wedding dress that the star posted on Twitter has everyone freaking out — but it's probably not quite what you think.
On Nov. 22, Lovato set the social media world on fire by posting a picture of herself wearing a wedding dress without a caption (sneaky, sneaky, sneaky). She's wearing a strapless lace number and a long veil in the shot... and pretty much looks like a fairytale goddess. Fans immediately started circulating a theory that the still was from the singer's upcoming "Tell Me You Love Me" music video. The album (also titled "Tell Me You Love Me") dropped on Sept. 29, 2017, and Lovato has only released one music video so far — the explosively sexy break-up anthem "Sorry Not Sorry."
While "Tell Me You Love Me" doesn't explicitly mention a wedding, it is definitely all about love and could very well have something to do with marriage. A small sampling below:
Everything I need / Is standing in front of me / I know that we will be alright, alright, yeah / Through the ups and downs / Baby, I'ma stick around / I promise we will be alright, alright
Oh, tell me you love me / I need someone on days like this, I do / On days like this / Oh, tell me you love me
Twitter was pretty convinced that the shot was from "Tell Me You Love Me."
Oh yeah, and then there were a bunch of people who seemed to very passionately want her to marry to Nick Jonas...
To set the record straight, it does not appear that Lovato is dating Jonas at all (though there are always rumors). She was reportedly dating MMA fighter Guilherme "Bomba" Vasconcelos but, according to PEOPLE, the two broke up in May after dating five months.
Obviously at this point we can only speculate about what this wedding dress picture means, but we do know that "Tell Me You Love Me" represents a critical time in Lovato's life. She told fans at a New York City album launch in September,
The first time I heard it, it really stuck with me because at the time I was going through a breakup. It's about the vulnerability of coming out of a very serious relationship and having a tough time with it. It also at the same time calls out a big misconception with the line, 'You ain't nobody 'til you got somebody,' which again comes from that vulnerability with mixed emotions."
So, who is that man in question?
Well, literally all signs pretty much point to her ex-boyfriend Wilmer Valderrama. The two dated for six years before calling it quits in June 2016. The pair wrote in a joint Instagram statement that it was "an incredibly difficult decision" but that they realized they were better as best friends.
And yet there might be some lingering feelings. During an interview for her 2017 documentary Simply Complicated, Lovato opened up about the feelings she still has for Valderrama.
"I do have moments where it's late at night and I'm lonely and I wonder if I made the right decision, because love is a gamble,' she said. "I don't know if I'll lose him for the rest of my life."
*Sigh.* Doesn't all that suddenly give the "Tell Me You Love Me" lyrics a whole new meaning?
Oh no, here we go again / Fighting over what I said / I'm sorry, yeah I'm sorry / Bad at love, no, I'm not good at this / But I can't say I'm innocent / Not hardly, but I'm sorry / And all my friends, they know and it's true / I don't know who I am without you / I got it bad, baby / Got it bad
Only time will tell re: the whole wedding dress speculation, but I will feel zero levels of surprise if that music video features a rugged Valderrama look alike, waiting at the end of the aisle.