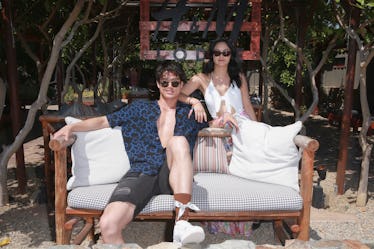 Charles Melton Just Shared The Flirtiest Photo Of Him & Camila Mendes, I Can't Even Deal
Rich Fury/Getty Images Entertainment/Getty Images
The set of Riverdale must be a really romantic place because not only are Cole Sprouse and Lili Reinhart a committed couple, but apparently so are Camila Mendes and Charles Melton. Melton and Mendes have been a rumored couple for quite a while now, but only recently have they been more upfront about their affection for each other. And this photo of Charles Melton and Camila Mendes proves that what they have (whatever that is) is the real deal.
Melton took to his Instagram on Monday, Oct. 15, to post a photo of him and Mendes sharing an embrace in what appears to be a restaurant. The photo isn't the first one that seems to confirm a relationship between the two.
Just last week, on Oct. 7, Mendes also shared a cute photo with her new beau. Mendes' photo seemingly confirmed the relationship as the two appear to be quite intimate in the photo. Not to mention, Mendes captioned it "mine," indicating that she and Melton could, in fact, be an item. Melton's Oct. 15 photo is just the latest one fueling the the fire of relationship speculation.
All that said, though, the photo that Melton shared is really cute and shows just how comfortable he and Mendes are together.
This is the photo Melton posted on Instagram:
Adorable, isn't it? And they look super lovey-dovey, as cliche as that sounds!
Rumors of the couple's romance began in September 2018 when a source told E! News that the two Riverdale co-stars attended a movie together.
"Camila sat next to Charles and leaned on his shoulder," the source told E! News. "As the lights were dimming, my friend saw them kiss!" Elite Daily reached out to Mendes and Melton's teams previously regarding the report, but did not hear back by the time of publication.
That particular eyewitness account was just the icing on the cake after fans spent weeks speculating about a possible romance. Earlier that same month, a photo surfaced on Instagram of Mendes and Melton sharing a towel while relaxing on a yacht. And that, of course, further sparked rumors of romance.
Check out the photo down below:
Although you can't see their faces, you can definitely tell that Mendes and Melton are really comfy together and have something special going on.
It was only a month later that Mendes essentially confirmed the relationship with a photo and caption that made fans go wild.
Here's the photo she posted on Oct. 7:
Seems pretty official to me! Almost immediately, fans started sharing their support of the couple.
"AHHH!!!! I didn't know how I felt at first, but now, I ship so HARD!!!!!!!!!💗," one fan wrote. "I am so happy for you two!!!"
Another fan joked about whether it's awkward for Melton and Mendes' on screen boyfriend KJ Apa to film together. "LOOK WHO ALSO JUST STARTED DATING!!!!!" the fan wrote. "I wonder if it's weird for him to watch her makeout with @kjapa while filming.... yikes 🤥😂"
Well, whatever goes on behind the scenes, I'm sure all the Riverdale stars support the special bond Mendes and Melton are sharing right now!