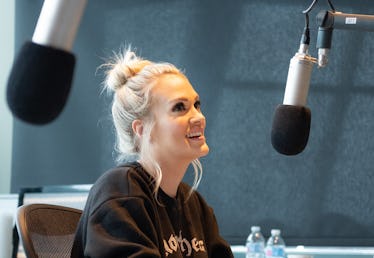 Carrie Underwood Showed Off Her Face Scars In A New Selfie & TBH, She Looks Great
Jason Kempin/Getty Images Entertainment/Getty Images
If you were wondering what everyone's favorite female country artist, Carrie Underwood, has been up to lately, she's actually doing swell. While the "Before He Cheats" singer unfortunately suffered a giant fall late last year, resulting in several stitches on her face, she's since made a huge comeback health-wise, and looks absolutely amazing. If you haven't already seen this photo of Carrie Underwood after her accident, it shows that she's doing perfectly fine now.
In November 2017, Underwood endured a really horrific accident, which left her with some pretty intense injuries to her face. On April 19, Underwood described her accident in great detail during an appearance on iHeartRadio's The Bobby Bones Show. She explained that she was on her way out to walk her dogs one evening, missed a step, and ended up slipping and falling down the stairs, breaking her wrist and hitting her face. "If I had fallen anywhere else, I would have been perfectly fine. But it was one step that messed everything up," she said.
In addition to breaking her wrist, Underwood had to get over 40 stitches on her face. Yes, I repeat: 40 damn stitches. Yikes, man. Possibly the worst thing about this story though, is how normal it is.
At first, her injuries sounded excruciatingly painful. Underwood (understandably) laid low for a quite a while, though, and has since appeared to make an astounding recovery. On Friday, April 20, she shared a closeup of her face on social media, and she's looking beyond phenomenal. In the photo, she's decked out in Nashville Predators gear, ready to cheer on her hockey-playing husband, Mike Fisher. The closeup shows a few scars — although if I'm honest, they're actually barely noticeable — around her upper lip and on her chin, but she looks happy, healthy, and appears to be having a ton of fun. Honestly, forget Nashville. I'm rooting for team Carrie right now.
Underwood's Instagram caption shows that her relationship with her husband is still thriving, too. She cheers on the Predators, shouting out her husband of almost nine years' number. TBH it's so adorable.
The caption reads:
"Ready to cheer on the boys tonight! Especially that #12! I hear he's alright! 😘 @mfisher1212 @predsnhl#LetsGoPreds."
Even though this happens to be one of Underwood's first closeup photos to emerge since the accident, there was another photo that came out way back in early January. Underwood had a run-in with Adrienne Gang, from the reality TV series Below Deck. The two stars met at the gym, and ended up taking a super cute photo together. Gang shared a picture of the two of them, captioning the photo, "Just worked out next to @carrieunderwood NBD... she is adorable and so gracious... LOVE HER!" Although the photo was not, in fact, a closeup of her face, it still showed that Underwood was doing well and staying active amidst the healing process.
We also got to see her at the 2018 American Country Music (ACM) awards on April 15, when she blessed us all with her first public appearance — and live performance — since her accident. She performed her song "Cry Pretty" and both sounded and looked amazing. But then, did we expect anything else?
Meanwhile, Underwood's husband, Mike Fisher, has been by her side during the entire recovery process after the accident. The two first met through Underwood's bassist, who happens to be an old friend of Fisher's. After Underwood met Fisher backstage after one of her concerts, the two went on their first date on New Year's Eve 2008. Yep, that's right, their first kiss was when the ball dropped, guys. I am seeing freaking fireworks right now. The fairytale couple then officially got engaged on Dec. 20, 2009, and were married in July 2010. Ugh, these two are way too cute, y'all. I'm beyond obsessed with both of them.
There's no denying that 2017 was overall a pretty terrible year, and Underwood could probably attest to that, too. But despite her scary fall, her most recent photo shows that she is now feeling much happier, healthier, and having a ton of fun. I don't know about you, but I wish I was thriving as much as Carrie Underwood is right now.