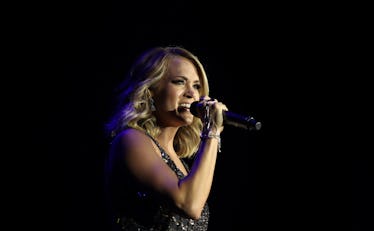 Carrie Underwood Made Her First Public Appearance Since Her Accident & She Looks Amazing
Christopher Polk/Getty Images Entertainment/Getty Images
This is officially the comeback story of the season. After experiencing a terrible fall outside her home, Carrie Underwood has been MIA from the public spotlight as she heals up. Well, with her performance at the American Country Music (ACM) Awards on April 15, Carrie Underwood's first public appearance after her accident proves she's a total warrior.
On Nov. 10, 2017 Underwood fell down steps outside her home, which required her to get 40 stitches in her face. Since her fall, Underwood has been keeping it pretty low key as she recovers, which is totally understandable. However, the ACM Awards announced via Twitter on April 9 that Underwood would be performing during the live show. I think it goes without saying that this is without a doubt one of the greatest returns in music history. As if fans weren't already excited, the ACM Awards also revealed that Underwood would be performing a brand-new single during the show, which was super exciting since the country superstar had been teasing new music via social media for the past few days, and released her latest single "Cry Pretty" on April 11.
On April 14th, Underwood took to Instagram to share a selfie post rehearsal. Needless to say she looks fabulous.
An epic queen comeback and new music? I think even country music haters might have even tuned into the American Country Music Awards for this very special event.
I don't know about y'all, but I'm a total sucker for a comeback story, and clearly I'm not the only one who was excited to see Underwood strut her stuff on stage. Just look at these tweets and see for yourself.
After ACM announced the performance, Twitter turned out some major support for the country singer's return.
Underwood may have been taking a break from the public spotlight, but she certainly wasn't letting that setback keep her down. On March 2, Underwood released a music video for "The Champion," featuring rapper Ludacris. Her recent music releases are clearly nods to her recent physical battles, and her bravery through the whole ordeal is certainly inspiring. Over the past few months, Underwood has taken to social media a few times to update fans on her progress.
On Nov. 12, 2017, Underwood tweeted a huge thank you to her fans for their support and thoughts after her accident.
Due to the fall, Underwood had to cancel a few shows, which of course people weren't that pleased about. However, a letter from Underwood to her fans revealed the details behind her fall, and that her injuries were a bit more severe than we initially thought.
She wrote,
I'll spare you the gruesome details, but when I came out of surgery the night of my fall, the doctor told Mike that he had put between 40-50 stitches in. Now here we are 7 weeks later and, even though I've had the best people helping me, I'm still healing and not looking quite the same. When I am ready to get in front of a camera, I want you all to understand why I might look a bit different. I'm hoping that, by then, the differences are minimal, but, again, I just don't know how it's all going to end up.
Well, like a phoenix from the ashes, Underwood finally started to see some positive results. On April 10, just before the release of her single "Cry Pretty," she wrote another letter to fans giving them the scoop on her progress. This time, it was nothing but good news.
She wrote,
First off, physically, I'm doing pretty darn good these days! My wrist is almost back to normal, about 90% there, and the docs say that last 10% will come in time. And my face has been healing pretty nicely as well. I definitely feel more like myself than I have in a while.
Continue to slay, Carrie. You are truly the country queen to us all.
More to come.