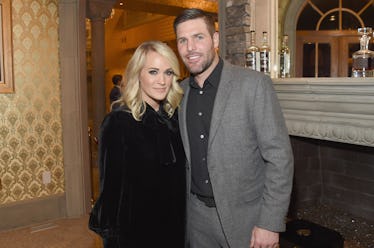 8 Photos Of Carrie Underwood & Mike Fisher That Prove They're Low-Key Couple Goals
Rick Diamond/Getty Images Entertainment/Getty Images
Carrie Underwood is happily married and her husband is a total sweetheart, but who is Carrie Underwood's husband? While many Underwood fans are well aware of this power couple, others are less familiar with Mike Fisher, who is a recently retired hockey player.
The couple first met through Underwood's bassist, who is friends with Fisher. Underwood met Fisher backstage following one of her concerts, with her first impression of Fisher being "hot, hot, hot," which she texted her bassist after meeting Fisher. I imagine the feeling was mutual.
Their first date was on New Year's Eve 2008, as Underwood explained, "Our first kiss was when the ball dropped." It definitely sounds like a magical moment, as Underwood told Glamour: "We were in front of people, and he's not a big PDA guy. I figured, I'll go in for it because he can't leave me hanging, right? So I made him kiss me in public."
The couple got engaged on Dec. 20, 2009 and made their first public appearance in January 2010 at a fundraising event in Gatineau, Canada. Fisher also started hitting the red carpets with his wife that year, and they were married in July.
Their career demands definitely put some distance between them, but they weathered the storm, as Underwood told Glamour in 2012: "We're both independent people, so we can't have somebody around 24 hours a day, seven days a week."
She added, "I don't have to worry about Mike. He's going out? I don't care; it doesn't bother me. I don't bat an eye."
Everything worked out, as Fisher was drafted by the Nashville Predators in 2011 and he was able to be with Underwood. Fisher explained to the Vancouver Sun, "I was praying a few days before about [moving teams]. I was just so frustrated and said 'God, if you have me go somewhere take care of it, look after it,' and he sure did that. He put me in a place I was comfortable with and I think that's part of reason that this is the place I'm supposed to be and that's comforting for sure."
In 2015, the couple welcomed their first child, a boy, Isaiah.
Underwood told E! News in 2016, "My husband is as wonderful as he is hot, and I feel like that's rare. He's amazing. He's such a great dad and he's so supportive of what I do and I'm supportive of him and we just love our little family."
Aw.
Fisher retired from the NHL in 2017, after playing with the Ottawa Senators beginning in 1999 and the Nashville Predators since 2010. He explained in a letter for the Tennessean:
"This job I've been able to have for a majority of my life is so much fun. To help create that entertainment and to see the joy we can bring to people is such a unique and exciting opportunity. I'll miss my teammates, my coaches and the game itself."
He further explained how he would be spending more time with his family, noting: "I'm looking forward to a future that includes a lot more time with my family. Things change when you have kids and you have a family. They've supported me without question and now it's my turn to return the favor."
Underwood was wholly supportive of her husband's big decision, taking to Instagram to explain:
Captain @mfisher1212 I sure am going to miss watching you play and cheering you on with the rest of Smashville, but I so look forward to seeing what God has in store for you in this next chapter of your life. You've given your teammates and the game your all for so many years. You've worked so hard and made us all so proud! Isaiah and I love you so much and are so excited to be able to have you home a lot more... We can't wait to cheer on the @predsnhlWITH you in the stands! #ThankYouSmashville #PredsFansForLife.
These two truly are relationship goals. I mean, check out their Halloween couples costume:
I can't wait to see more of Underwood and Fisher... they definitely have a very real relationship.
Check out the entire Gen Why series and other videos on Facebook and the Bustle app across Apple TV, Roku, and Amazon Fire TV.