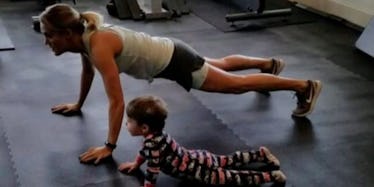 Carrie Underwood Working Out With Her 2-Year-Old Son Is Pure Mom Goals
Instagram
Wednesday, Carrie Underwood proved she's the living definition of mom goals.
I had no idea, but the country music superstar has an adorable 2-year-old son, and the video she shared on Instagram of her baby boy working out and doing yoga with her is the cutest thing you'll ever see.
The 34-year-old is clearly Mom of the Year to her son, Isaiah, and the below workout video proves it.
Without further ado, check out Carrie Underwood and her son getting that Wednesday workout in.
See, I told you this was the cutest thing ever.
To caption the above video, Underwood wrote,
My workout buddy... mama's in @caliabycarrie and the big man is in his fire truck PJs... whatever works! #StayThePath PS, please excuse my yoga form... I don't do much yoga, but like to stretch...
Adorbs!
According to E! News, the above video was posted after country music fans learned Carrie Underwood will perform at the 52nd Academy of Country Music Awards in Las Vegas on April 2.
At the 2017 Golden Globes, the country music superstar spoke about her future, at least in the coming months in 2017.
She said,
I think I'm gonna enjoy a little time with my family and then start writing, maybe, and just seeing what I'm ready to do. I don't know. There's no real plans.
Hey, you do you, Carrie!
It appears spending more time with her 2-year-old son is definitely on Carrie Underwood's agenda.
To caption the above Instagram photo of Isaiah playing with a balloon, the 34-year-old wrote,
Where did two years go? My angel is getting so big! On one hand, it's so fun to see him learn and grow but on the other, it's all happening so fast! Happy birthday, little monkey! You are my world... my heart... and I thank God for you each and every day! The two years you have been on this earth have been the best of our lives! Mommy and Daddy love you so much!
Is anyone else smiling like the Cheshire Cat right now?
Citations: Watching Carrie Underwood Do Yoga With Her 2-Year-Old Son Is the Best Video You'll See Today (E! News)