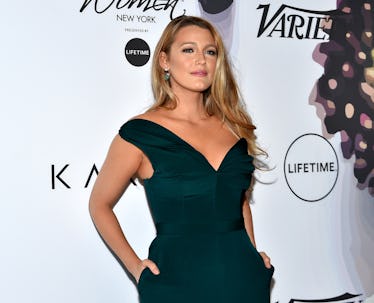 Blake Lively Met 'Frozen's Elsa In Disneyland & The Resemblance Is Just Uncanny
Mike Coppola/Getty Images Entertainment/Getty Images
In case you weren't already convinced that Blake Lively is basically a Disney princess, this will change your mind. The Gossip Girl actress just recently visited the most magical place on earth, and met some Disney royalty herself. This photo of Blake Lively meeting Elsa from Frozen proves that two queens are better than one.
Lively took to Instagram on March 15 to give fans a glimpse inside her Disneyland trip. The most epic picture however has got to be her encounter with ice queen Elsa from Disney's hit original Frozen. While Queen Elsa wears her classic blue sequined gown, Lively takes a bit more casual approach by rocking a pair of distressed denim jeans, a plain white tee, and some lace-up sneakers. Even though their outfits might be a little different, their braided hairstyles are nearly identical. So, of course these two ladies naturally had to decide whose braid reigns supreme.
Lively posted the Instagram, which shows her holding Elsa's braid and staring her down with a look of pure determination in her eyes. Along with the photo, Lively wrote a caption that simply asked "who wore it best..."
Please Blake, don't make me choose.
It goes without saying that both women are totally stunting in this picture. They're both winners in my book.
Aside from taking part in a luscious locks competition, Lively spent the rest of her days posing with other notable Disney characters. The actress was all smiles while posing with familiar faces Snow White, Ariel, and Cinderella. Name a more iconic group. I'll wait.
Posing with these iconic ladies obviously lit a fire inside Lively. In fact, she even went so far as to let Disney know via her Instagram story that she would be happy to cast herself as a very unlikely, but beloved, member of the Disney franchise — the Beast.
Disney, you better act fast on this.
But wait! There's more! No trip is complete without visiting everyone's favorite Hollywood mouse. Lively capped off her magical visit by cuddling up to Mickey Mouse himself. She posted an Instagram of her and Mickey in a tight embrace and her ecstatic smile could seriously light up any room.
All of these photos are bringing out the child in me, and I'm absolutely living for it.
Judging from the captions, I need Blake Lively to be my best friend right now. The photos of her and Emily Blunt celebrating Valentine's Day together on Feb. 14 made me want to schedule a GNO immediately. The two actresses decided to enjoy a mom's night out and attend the last day of New York Fashion Week, with front-row seats naturally. Then, as if you weren't screaming #friendshipgoals already, the gal pals attended a lovely dinner together that night. Blunt's husband, John Krasinski, was out of town for the most romantic night of the year, so Blunt hilariously said she'd be down to third-wheel a date with Lively and Reynolds.
Um, can I come?
Even though Lively and Mickey may look like they're heading for true love, nothing can really beat her and Ryan Reynolds' nearly perfect relationship. In an interview with Glamour on July 31, 2017, Lively explained that the reason why her and Reynolds' relationship works out so well is because they started off as friends first.
She said,
In other relationships, if something came up, I would call my girlfriends or my sister, and say, 'Hey, this is what he did — what should I do?' Where with him, we were friends for two years before we were ever dating. And I treat him like my girlfriend. I'm like, 'Hey, this happened. It upset me. This is how I feel. What do I do?' And he does the same for me. He treats me like his best buddy.
Disneyland may be the most magical place on earth, but Blake Lively's life sounds like a pretty great fairytale.