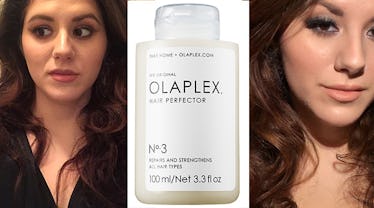 Kim Kardashian's Hair-Repairing Secret Is Finally Available At Sephora & It's Amazing AF
Kim Carpluk
I have problematic hair. My hair is genetically prone to frizziness and unruliness, plus I don't treat it with the utmost respect. I dye it, blow dry it, straighten it, curl it, and put it through countless other abuses daily. So when I started to read Olaplex No. 3 reviews, I knew I needed to get this product on my head as quickly as possible.
There has been a lot of hype surrounding Olaplex, specifically because celebs like Kim Kardashian rave about its miraculous hair-repairing abilities. Until now, Olaplex has really only been made available to professional hairstylists. Sephora has started carrying the underground hair secret, Step No. 3 (Steps No. 1 and 2 still require a bit more expertise), which is as easy to use as a sensible hair mask. Simply apply to damp, towel-dried hair, leave in for a minimum of 10 minutes, rinse, shampoo, and condition to reveal the soft and shiny hair of your dreams. Now that you don't need a license to get your hands on some Olaplex, the possibilities are limitless.
I had to spend a hot minute literally hunting down a bottle because the product is getting so popular, so don't get discouraged if you can't find it anywhere. You can always purchase it online. Trust me, this product is worth the shipping.
Recently, I tried hygge hair, and the wonderful stylist Stephanie Brown lightened my black dyed hair to a gorgeous caramel-highlighted brunette hue. I had been dyeing my hair black for years, so the damage had been major. It was a miracle that Brown was able to lift my hair so significantly without any further damage, but I wanted to do the beautiful color she created justice. The more hydrated and silky my hair is, the more gorgeous the color looks.
I tried out this product after a long day of running around New York City. I generally don't have time to spare in the morning, and I wanted to leave the Olaplex Hair Perfector No. 3 ($28, Sephora) on for as long as possible, so a nighttime application seemed like a grand idea. I started by showering (sans shampoo and conditioner) and towel drying my hair. This product needs to be applied to damp hair, so make sure you follow suit for maximum results.
Generally, when I've applied hair masks and other conditioning products in the past, I've started at the drier ends of my hair and worked my way up. Sometimes, I avoid the root of my hair all together. However, the directions said to apply "a generous amount from the scalp to the ends of the hair until the hair is thoroughly saturated," so I did as I was told. You must leave the product on for a minimum of 10 minutes, but my hair was thirsty, so I left it on for an hour.
According to the Olaplex website, "Olaplex links broken bonds in the hair before, during and after chemical services." That means your hair is actually being repaired, not just temporarily hydrated. My hair needed all the repair it could get, so an hour worked perfectly. After watching TV for a little bit, it was time to rinse the product from my hair, then shampoo and condition as usual.
The product was magical! That night, I blow dried my hair and tied it in a low bun before I went to sleep. My hair was soft AF, but I knew the true test would come the following morning. No matter what I do with my hair, I generally wake up with the frizziest, tangled mess of dry wavy strands. The morning after Olaplex, I woke up with shiny, bouncy curls that I could have run out of the house with.
The following day, the humidity reached 78 percent in New York City, and my hair still somehow managed to look fabulous (which has literally never happened to me before in my life).
If you have damaged hair, order your Olaplex right now! I can't wait to wash my hair and use it again. It's a Hogwarts-worthy magic potion that transfigured my hair from a mop of straw to soft, healthy locks.
This post was originally published on Feb. 23, 2018. It was updated on Aug. 16, 2019.